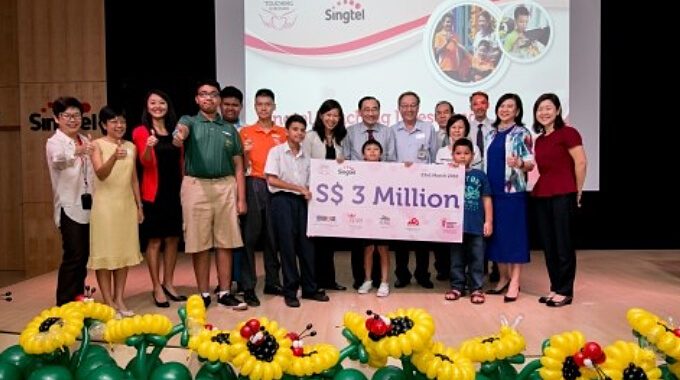 SingTel Touching Lives Fund Cheque Presentation Ceremony 2016
The students of APSN Chaoyang School and APSN Tanglin School are always assured an enjoyable time when they attend the SingTel Touching Lives Fund Cheque Presentation Ceremony.
This was no exception at the recent event held on 23 March this year as the students were treated to a specially catered lunch as well as favourite snacks of ice cream and popcorn. They also watched a movie screening of the cartoon "Hotel Transylvania 2" held inside the SingTel auditorium.
The cheque presentation was held after the movie and guests included sponsors and representatives from the social service agencies. During the ceremony, six beneficiary organisations were invited on stage to receive a mock cheque for the sum of S$3 million. President of APSN, Mr Chan Chee Keong and CEO Mr Kenneth Tham, represented APSN on stage to receive the cheque. The ceremony ended with a dance performance from Tanglin School which was met with rousing applause from the audience!
APSN is thankful to SingTel for its continued support of its schools and programmes.