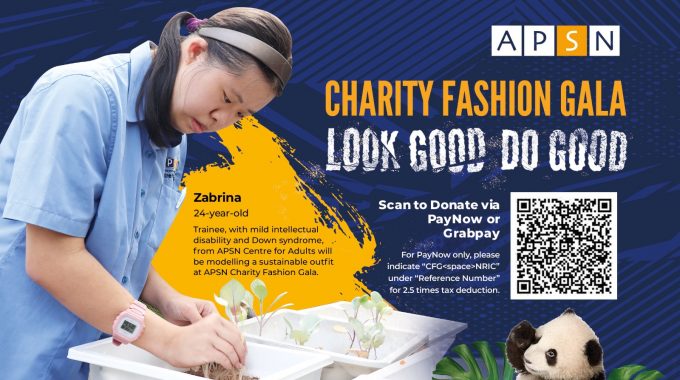 APSN Charity Fashion Gala
Zabrina is so excited for the APSN Charity Fashion Gala as the event gives her the opportunity to showcase her confidence, talent and creativity. She is gearing up to shine on the catwalk when she models the sustainable outfit, specially created based on her inspiration and collaboration with the fashion design students from Temasek Polytechnic. However, the 24-year-old, diagnosed with mild intellectual disability and Down syndrome, was not always the confident and cooperative person she is today.
When Zabrina first joined APSN Centre for Adults, she had frequent conflicts with her peers and was unwilling to follow work instructions. Even at home, she constantly argued with her family members whenever she was being corrected and sometimes returned home late without informing her caregivers.
Recognising the need for improvement, her form instructor, Lee See, with the support of our other instructors, stepped in to help Zabrina develop her social skills. Lee See also worked with Zabrina's caregivers to plan household responsibilities for Zabrina and provided advice on how they can balance the aspects of nurture and discipline at home.
With the support provided to her, Zabrina has learnt to regulate her emotions and has a more amicable relationship with her peers. She is now good at following instructions and enjoys a better relationship with her caregivers. Through her hard work, Zabrina has passed her Exposure Vocational Training Programme milestones and is waiting to transition to our Specialised Vocational Training Programme at the APSN Café for All.
Our beneficiaries' transformative journeys are only made possible with your invaluable support. Your donation empowers our beneficiaries, like Zabrina, to work towards becoming active contributors to the community by equipping them with the necessary skills required for the workforce through vocational training, realistic on-the-job training and employment support services. Make a donation today to empower our beneficiaries to lead independent and fulfilling lives.
A big thank you to our key sponsor, Marina Bay Sands, and our partners, Temasek Polytechnic, Uniqlo, TaF.tc and MediaOne for their support for the APSN Charity Fashion Gala.