APSN Centre for Adults (CFA)
About Us
APSN Centre for Adults (CFA), is a sheltered workshop that serves as an alternative for post-secondary special education and caters to individuals with special needs (Mild Intellectual Disabilities, IQ range 50-70), aged 18 and above. The vocational training centre provides sheltered enterprise training and job placement opportunities. Our trainees are empowered through best practices in vocational training, realistic on-the-job training and support services until they are ready for the workforce.
Centre Information
Phone
+65 6346 2425
Fax
+65 6346 7518
Email
cfa@apsn.org.sg
Address
11 Jalan Ubi, Block 4 #01-31
Kembangan-Chai Chee Community Hub
Singapore 409074
Curriculum Framework
APSN trainees aged 18 and above can enrol into APSN Centre for Adults' (CFA) full-time vocational programme. These trainees would have to pass a one-month trial and work assessment by the Centre. Trainees will experience a 4-phased vocational training programme, and they are assessed on milestones – not a period-based curriculum.
Phase 1 - Exposure Vocational Training
The Exposure Vocational Training phase aims to provide autonomy to trainees with special needs by allowing them to experience a variety of job industries such as Food & Beverage (Service, Kitchen, and Bakery), Horticulture, and Retail, before they decide on a career path that they would like to pursue.
Phase 2 – Specialised Vocational Training
Trainees begin to specialise in a selected specialised vocational training programme where they decide their career path, and focus their skills in areas such as Cafe, Catering and Bakery. Lessons are conducted in a licensed, authentic learning environment with tools and industry-relevant equipment; this provides realistic on-the-job training to bridge the gap between training and employment.
*Trainees who require more support will be placed in Contract Work Vocational Training Programme.
Phase 3 - Employability Services
Trainees assessed to be ready for open employment would be matched with an employer and will undergo a job trial with the employer partner. To further assist our trainees who are offered employment, our Job Coaches continue to provide job support for another 12 months. APSN CFA also provide upskilling programmes such as customising training programmes with employers.
Phase 4 - APSN Alumni Services
When the 12 months of job support is completed or, in the event the trainee transits out of APSN CFA, we will continue to render support through social recreational activities. There will be provision and access to job stability support, counselling and other professional services, including psychological services, occupational therapy and more.
APSN Café for All in collaboration with Andes by ASTONS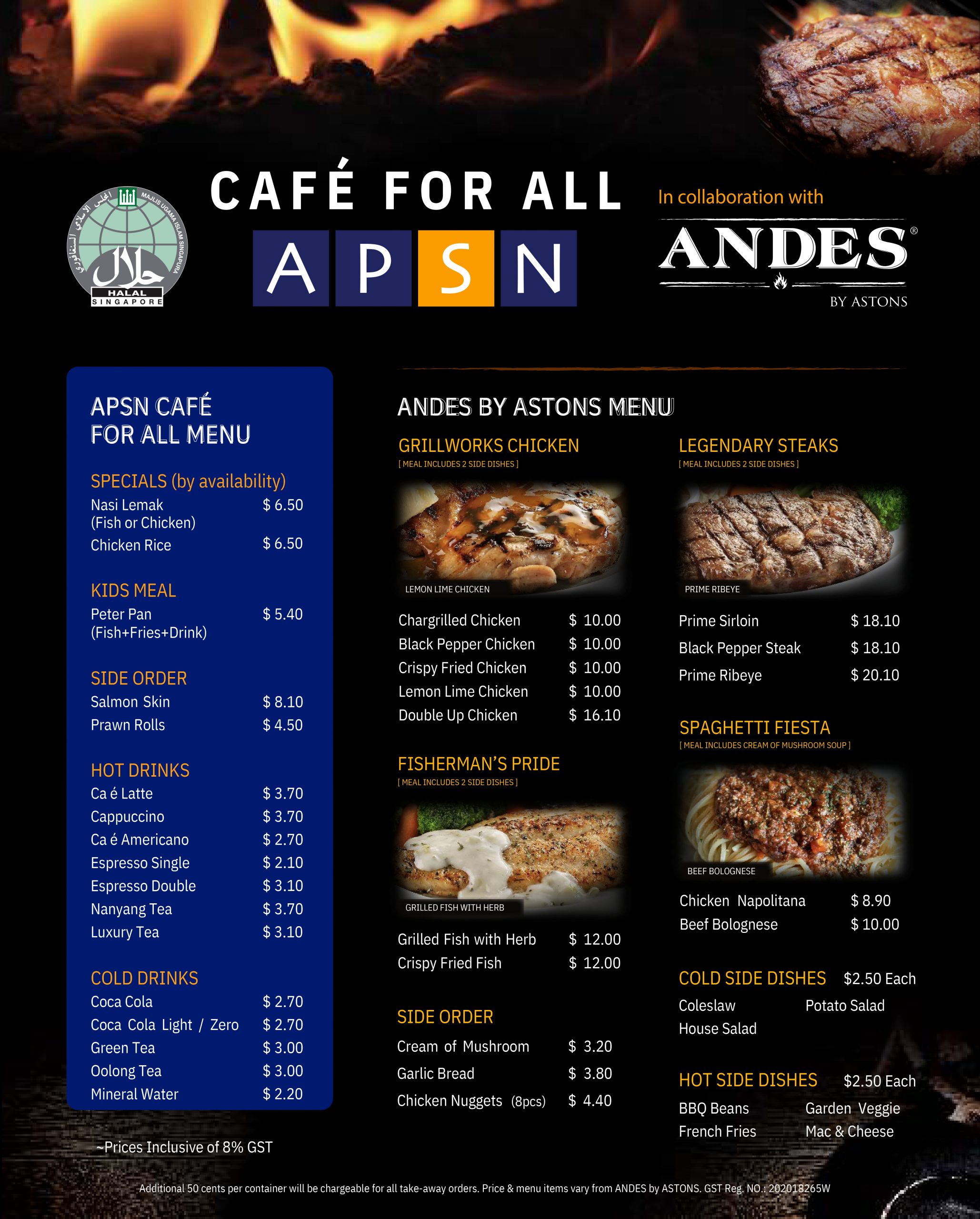 Located in Kembangan-Chai Chee Community Hub, the Singapore Food Agency and Halal-certified café creates opportunities for trainees to prepare and serve up orders and pastries to walk-in customers and corporate guests. View the menu here.
In collaboration with Andes by ASTONS, learning opportunities are provided to trainees at the APSN Centre for Adults (CFA). After completing the three months training, successful trainees would be offered full-time employment at the full-fledged restaurant ASTONS and its subsidiaries. If more time is needed for them to hit their learning milestones, they will be offered employment after they have been assessed to be competent in their tasks. Read more about the collaboration.
APSN Café for All is also open to venue booking at no cost, when you purchase food from the Café. Some of the functions we have hosted include Corporate Events, Gathering, Team Bonding, Learning Journeys and Product Launches. This cosy bistro can seat more than 50 pax indoors. View our flyer.
For further enquiries, please contact us at cafe@apsn.org.sg.
Opening Hours
| | |
| --- | --- |
| Monday | 9.30am to 4.30pm |
| Tuesday | 9.30am to 4.30pm |
| Wednesday | 9.30am to 4.30pm |
| Thursday | 9.30am to 4.30pm |
| Friday | 9.30am to 4.30pm |
| Saturday, Sunday, Public Holidays and Centre Breaks | Closed |
Address
Kembangan-Chai Chee Community Hub
11 Jalan Ubi, Block 4, #01-31, Singapore 409074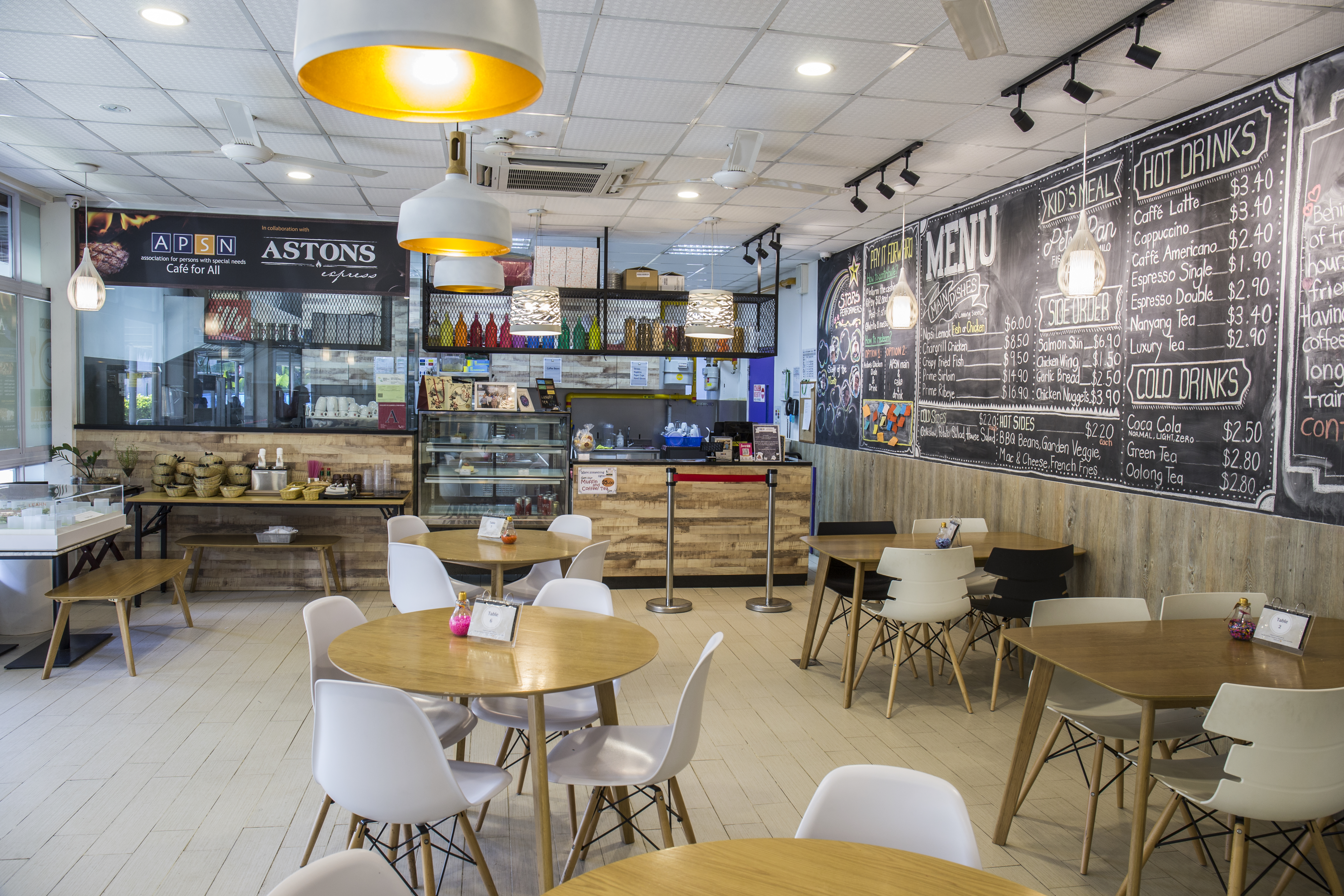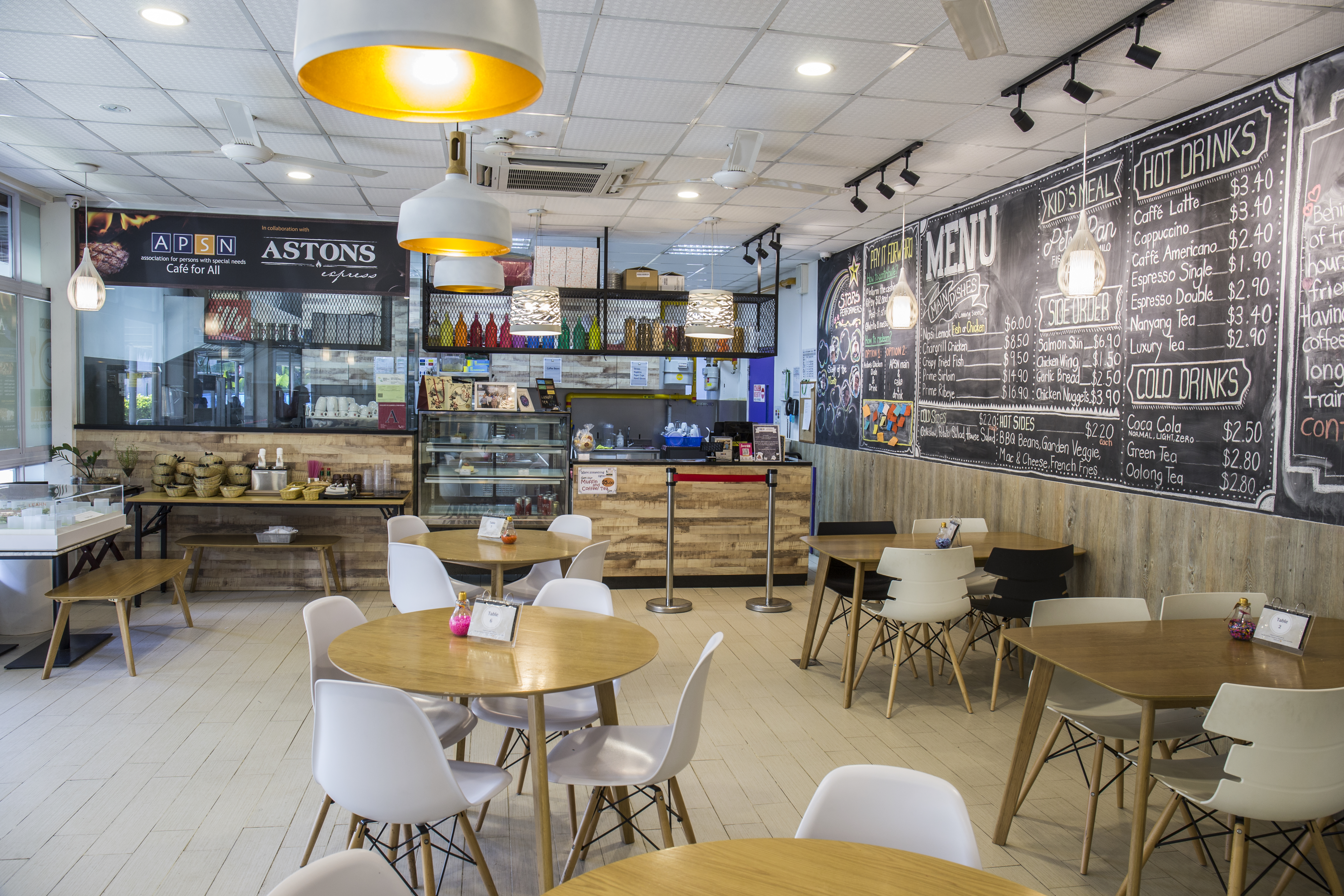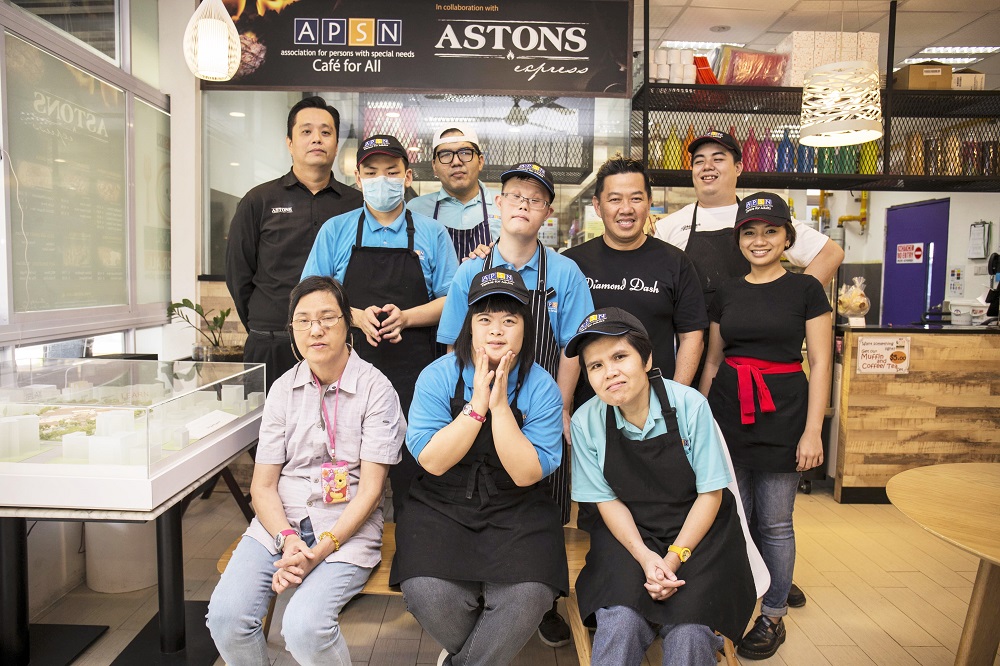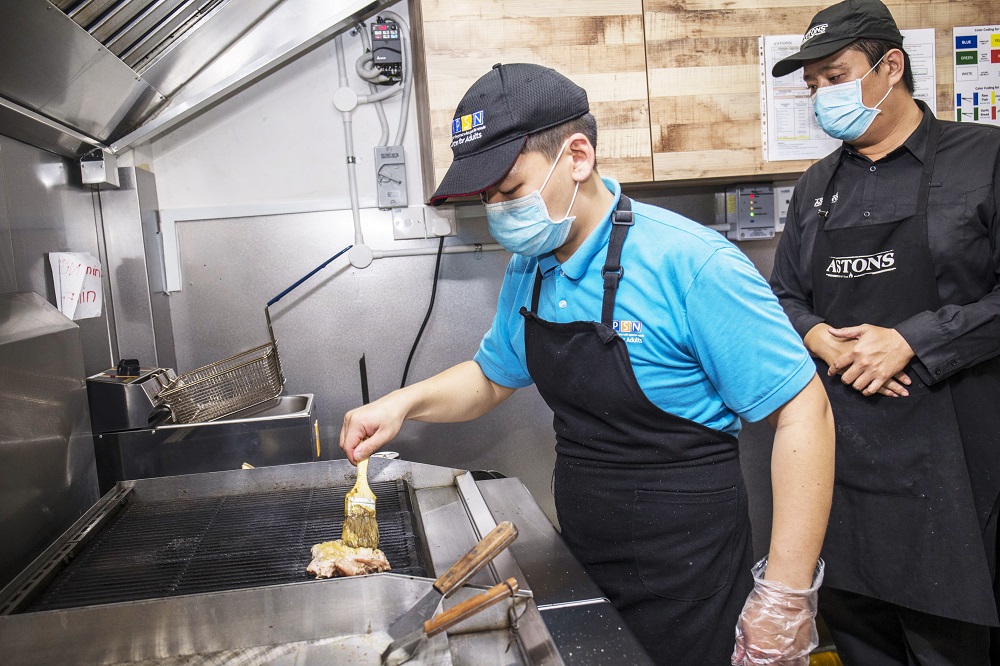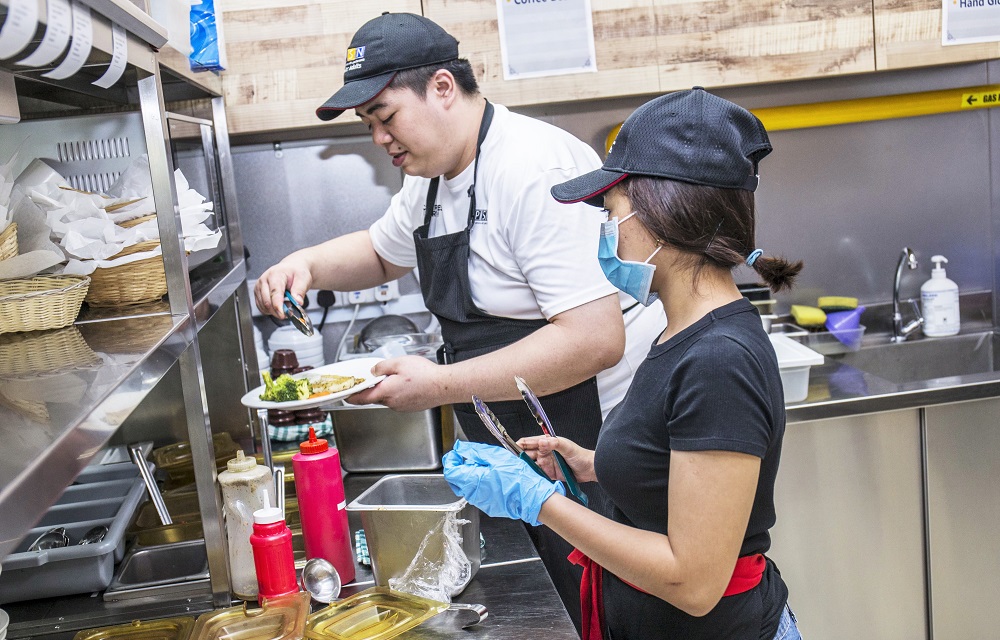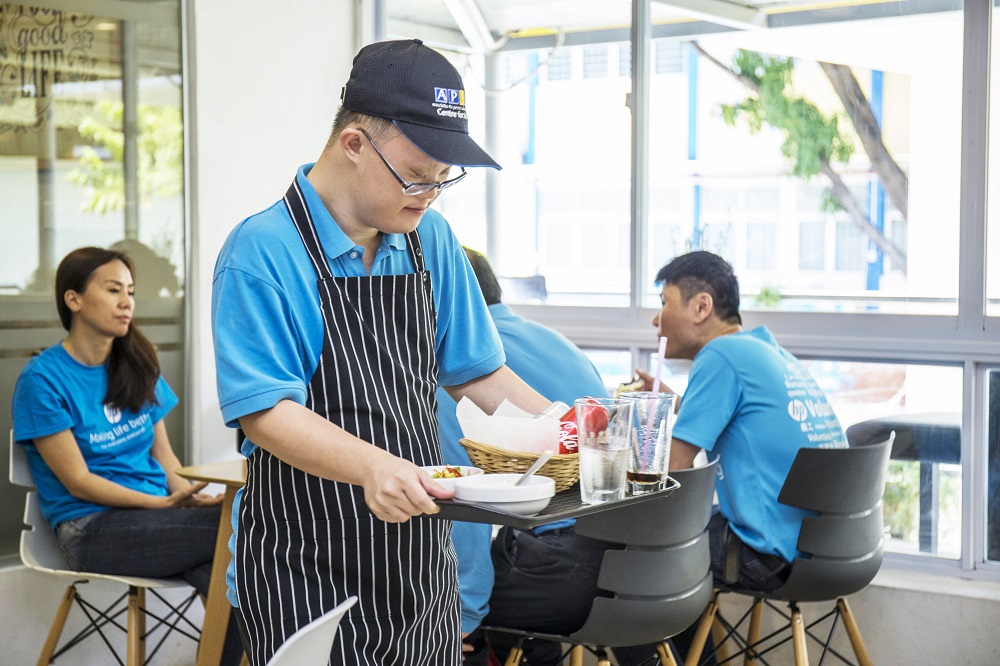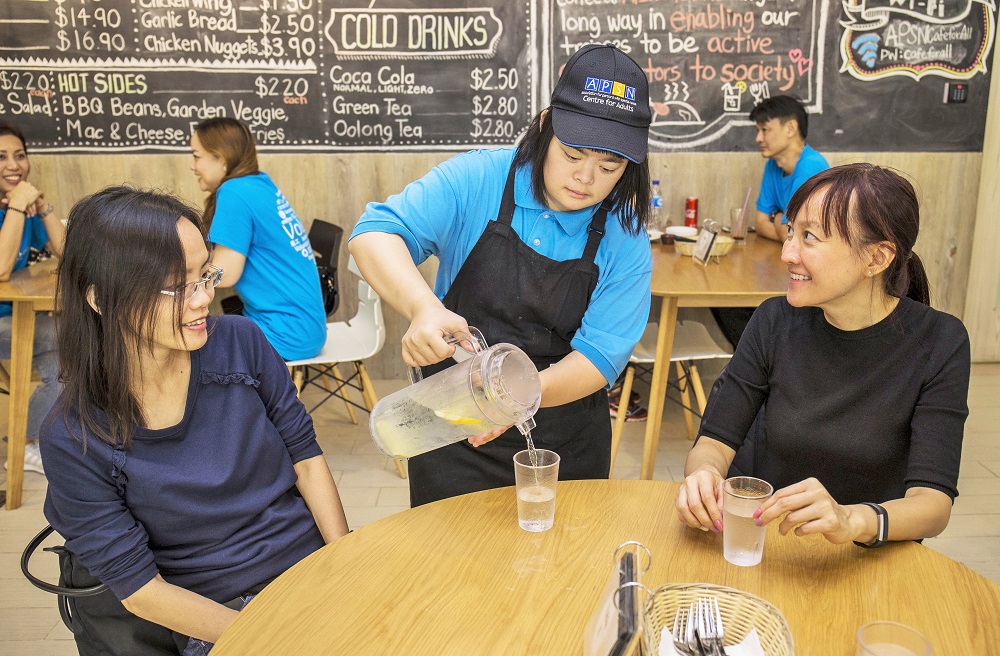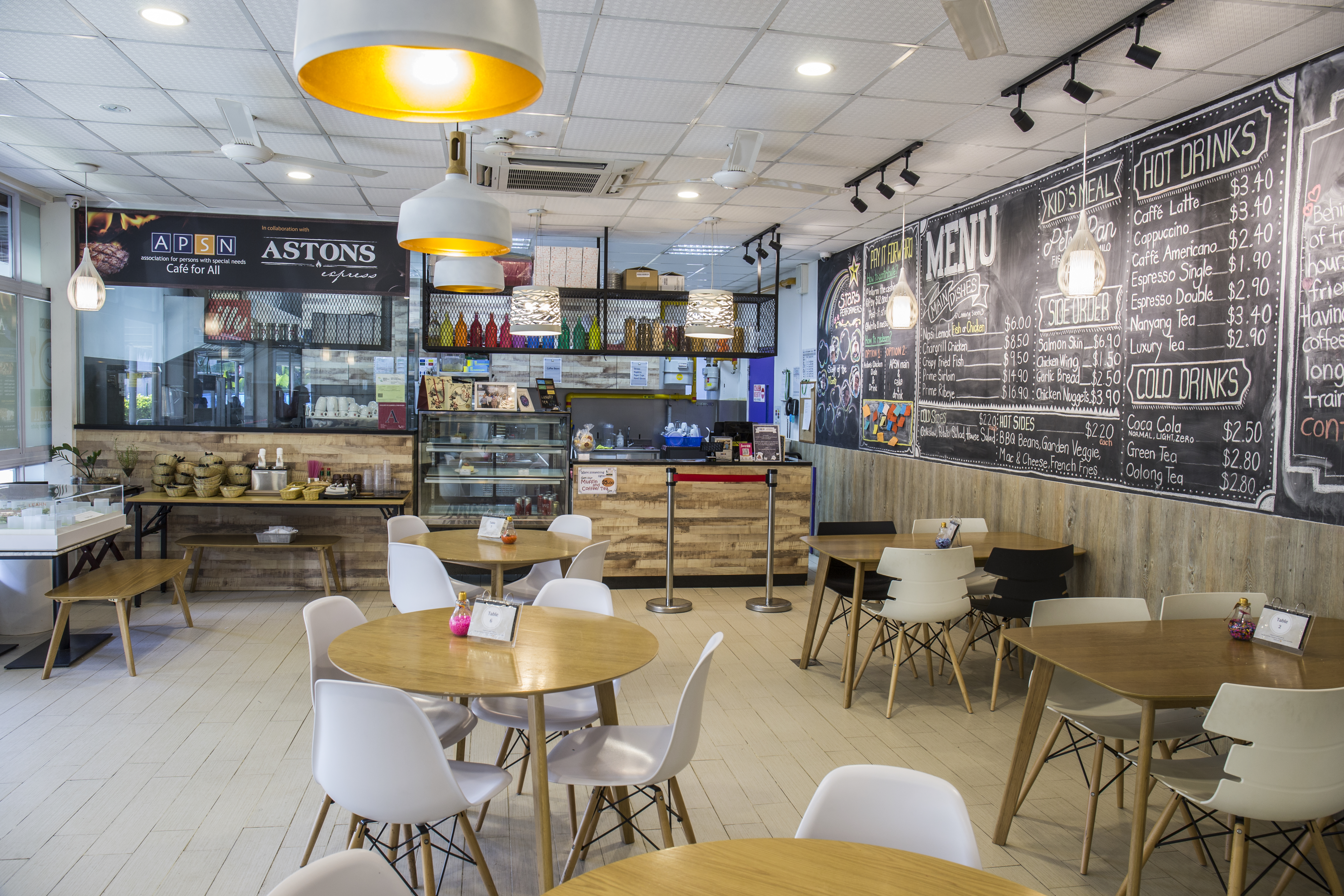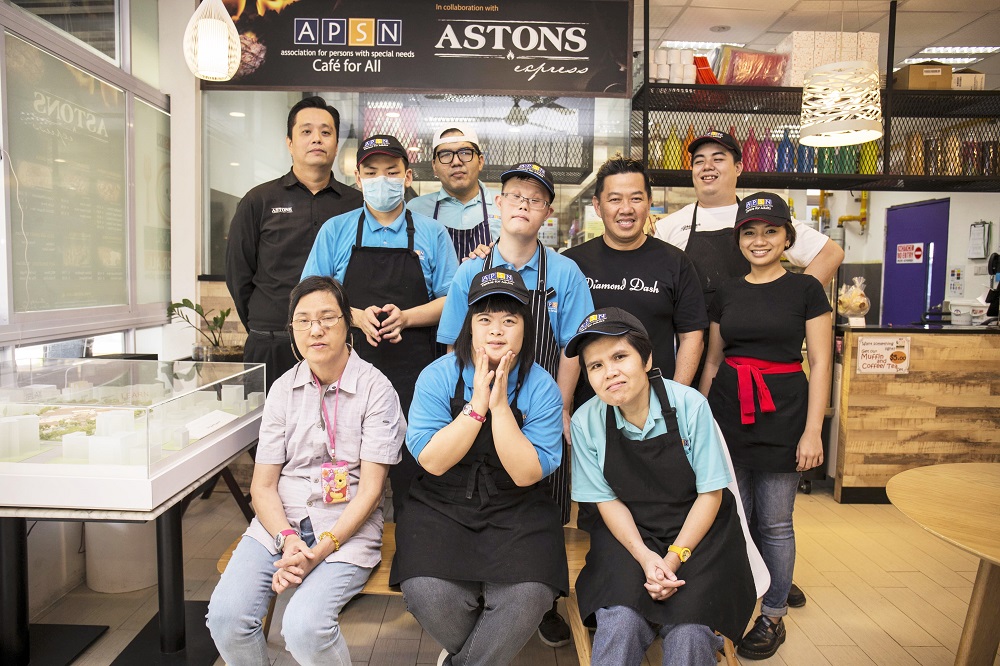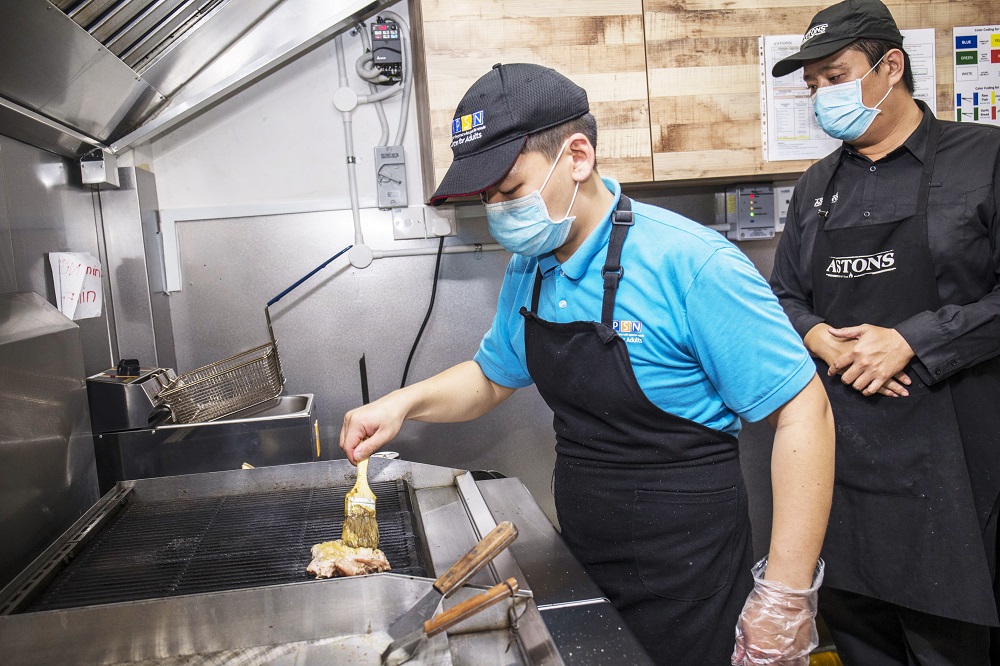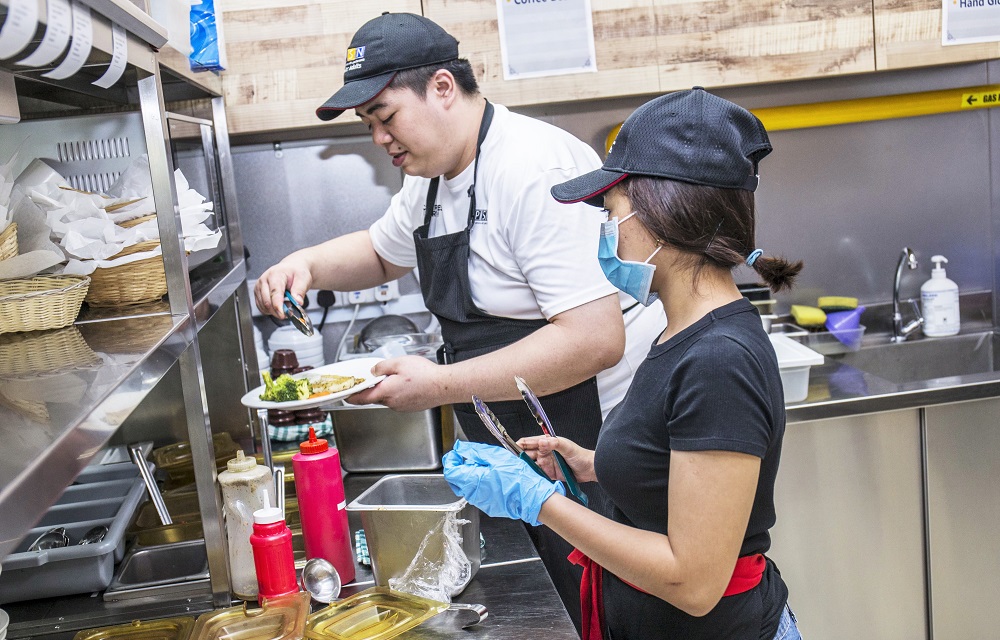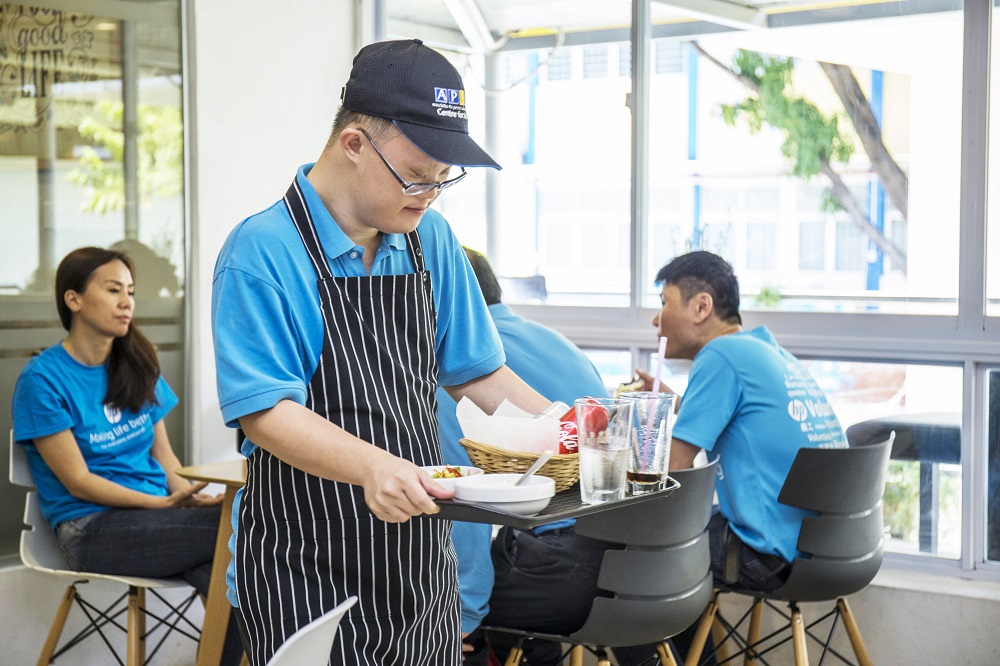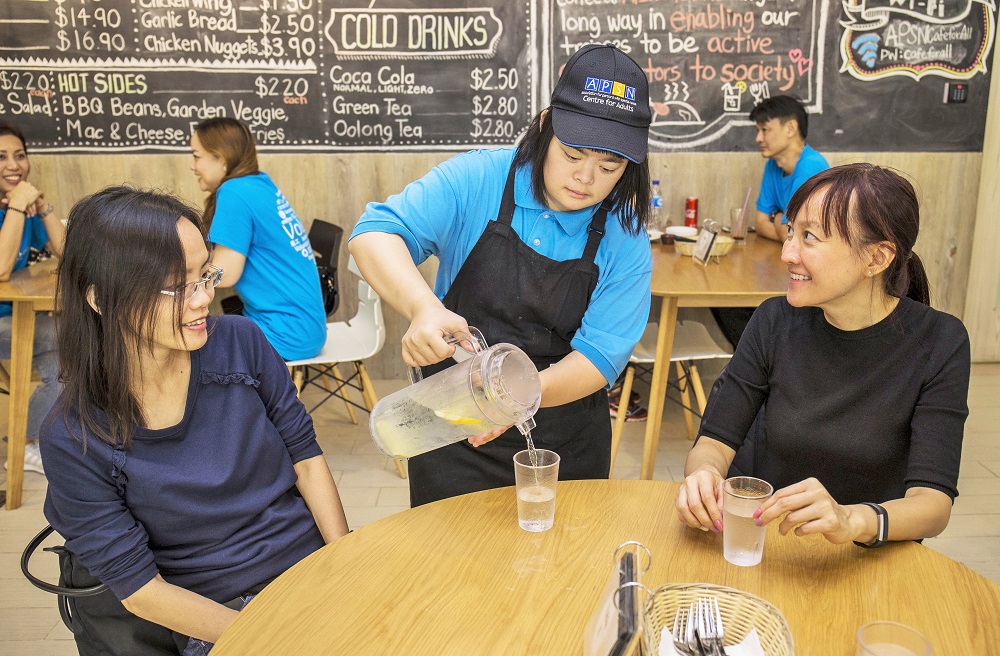 Baking Programme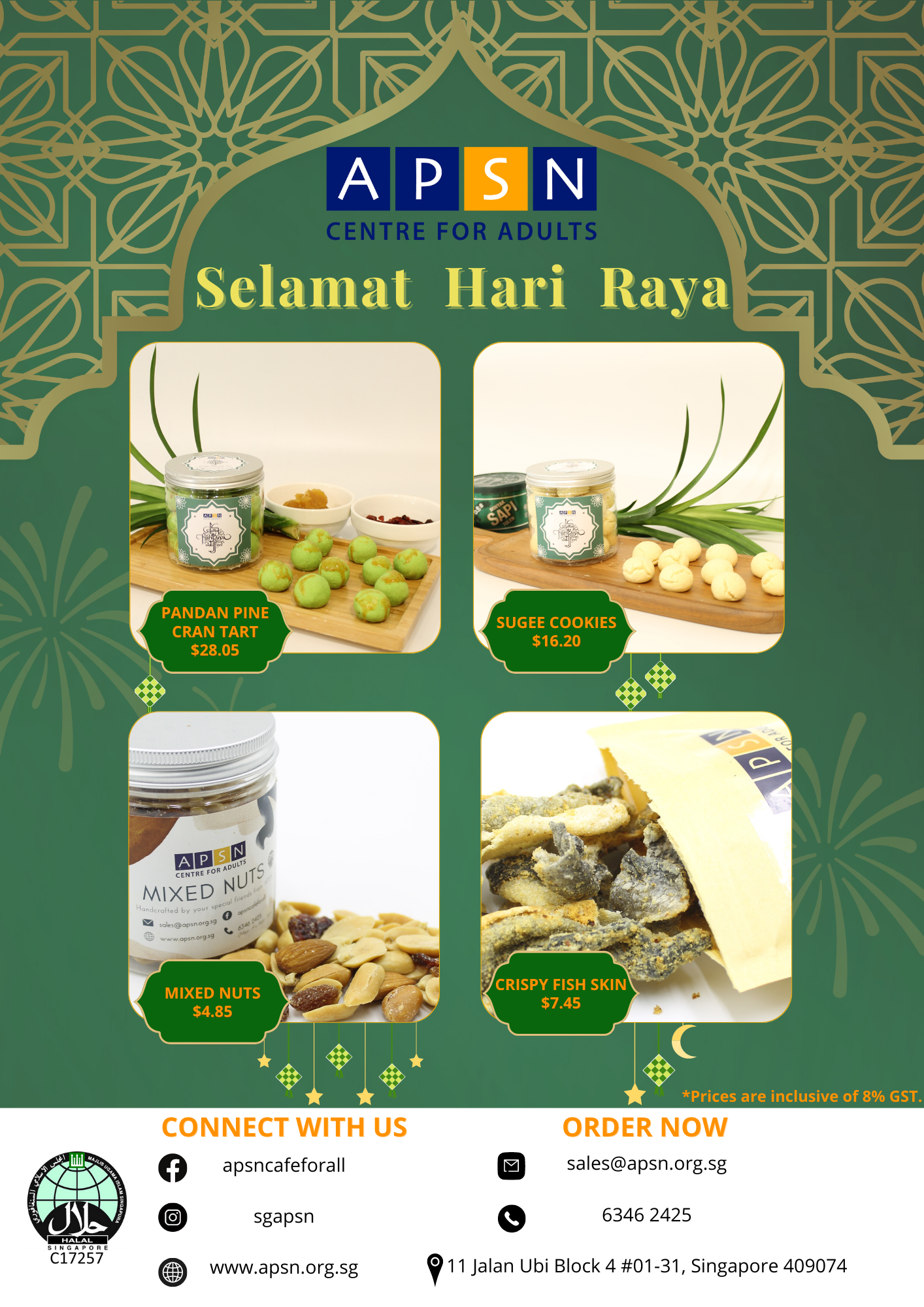 Cakes, cookies and pastries sold at APSN Café for All are prepared in the Singapore Food Agency, Halal and HACCP-certified in-house kitchen. Mystical cookies can be customised and sold for various occasions to the public.
View our catalogue here.
Make an order or enquire further! Contact sales@apsn.org.sg or 6346 2425 (Mon-Fri).
Collaboration with Wildness Chocolate
Marie Monmont, founder of social enterprise Wildness Asia, flew from New Zealand to Singapore to train beneficiaries at APSN Centre for Adults to manufacture and package organic chocolates.
Organic ganache-filled chocolates with Pure Dark cocoa and fruits/nuts from around the world are now handcrafted by our friends with special needs. Trainees benefit from the experience gained and allowances from producing chocolate for Wildness Asia.
Wildness is a well-established company in the Rimutaka Prison, Wellington NZ, where inmates are working and getting paid normal wages.
Netflix videographer Marylin Touret has worked on numerous international films and TV projects. She joined us from France to make this video capturing Marie and the Chocolate Factory magic with her team.
Achievements
APSN Centre for Adults was awarded Gold Achievement Banding (Educational Institution) and Outstanding Community Engagement Garden under NParks' Community in Bloom (CIB) Awards 2021. The CIB Awards recognises excellence in gardening efforts by community groups. This encourages community gardeners to improve the horticulture and outreach standards of their gardens, while continuing to enjoy gardening as a fun, healthy and inclusive activity.
APSN Café for All awarded the SG Clean quality mark.
First local disability service/sheltered workshop to be awarded the prestigious ISO 9001:2015 certification.
Finalist for the "Most Transformational Collaboration" Award at the 5th Annual Singapore International Chamber of Commerce (SICC) Awards for Collaborative Innovation. Selected for our innovative partnerships with Aegis Building & Engineering Pte Ltd and ASTONS Specialities.
Introduced new contract work opportunities including:
Car Decal, advertisement boards in collaboration with BusAds;
Bottling and labeling hand soap, body wash and scents in collaboration with My French Concession.
Collaboration with  Nimbus, a facilities management business that provides maintenance and space-up-keeping services to train and employ our trainees.
Entered the Singapore Book of Records for Largest Logo made out of Cookies at the Sesame Street Run. Each cookie is dyed according to the Sesame Street 50th Anniversary logo and were meticulously arranged by trainees from APSN Centre for Adult's Bakery Enterprise.
APSN Café for All, Catering Kitchen and Bakery awarded halal certification from MUIS. "APSN Café For All in collaboration with ASTONS" is renamed "APSN Café For All in collaboration with Andes by ASTONS".
Collaborated with Dancing Elephant to supply cookies.
Collaborated with The Social Space to supply cakes.
Featured by bloggers and influencers including Ms Tam Chiak, Seth Lui, Working with Grace, Rainbow Diaries, The Mums and Babies, InstaSG, 365days2play, mmlittlee, Six Meals Per Day, Social Space Magazine.
Teamed up with local diner ASTONS to rebrand our Café Sheltered Enterprise, which was renamed 'APSN Café for All & ASTONS Express'. The programme provides training and employment opportunities directly with ASTONS.
Partnered with Aegis Building & Engineering to create new job opportunities in maintenance engineering for persons with special needs.
Awarded prestigious HACCP certification for our Bakery programme.
Sealed the deal with Singapore Airlines to produced in-flight cookies.
Diamond Award, Community in Bloom Awards 2014
First Runner Up, Singapore Garden Festival, Gardeners' Cup 2014
Platinum Award, Community in Bloom Awards 2012
First Runner-up, Singapore Garden Festival, Gardeners' Cup 2012
Silver Award, Community in Bloom Awards 2007
Designed and maintained by clients
Staff was also one of the six Singaporeans to be recognised and awarded a Community in Bloom ambassadorship for active and outstanding involvement in training volunteers and clients in gardening.
Subscribe to our e-newsletter