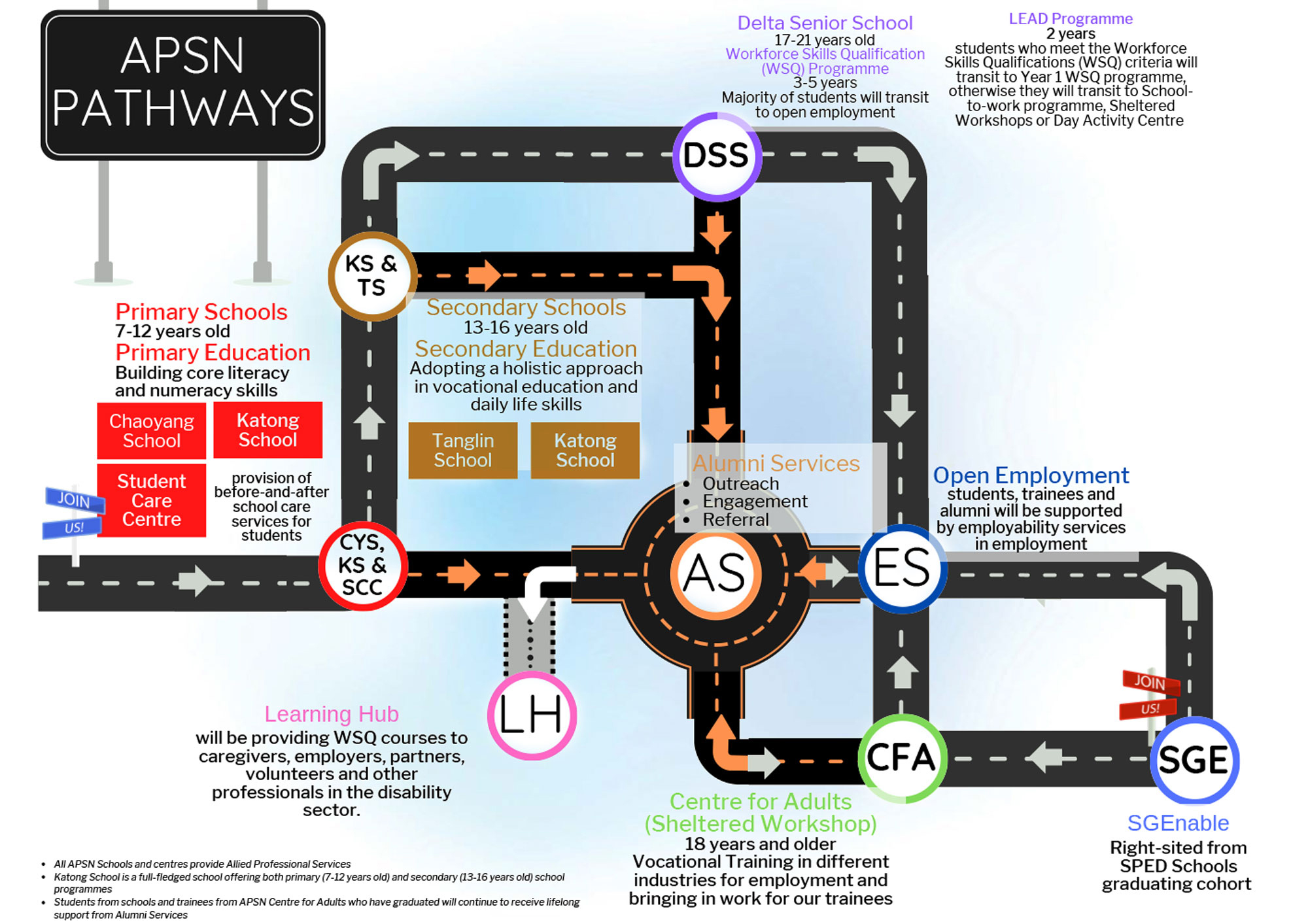 We currently operate four Special Education (SPED) Schools (Chaoyang School, Katong School, Tanglin School and Delta Senior School) for students between the ages of 7 and 21, APSN Student Care Centre for children from 7 to 18 years old, APSN Centre for Adults for persons from 18 years and older, and APSN Learning Hub for working professionals and other stakeholders.
We adopt a holistic approach in our curriculum, comprising academic, vocational and social skills, which are important for open employment and lifelong learning. APSN seeks to enable persons with special needs to be active contributors to the society, and is committed to inspire and develop the capabilities of our partners and community to build an inclusive society.
Admission to APSN Schools
Address: 10 Ang Mo Kio Street 54 Singapore 569184
Address: 900 New Upper Changi Road Singapore 467354
Address: 143 Alexandra Road Singapore 159924
Address: 3 Choa Chu Kang Grove Singapore 688237
For further information or enquiries, please contact the APSN School of your choice by phone or email address as stated above.
Parents and referring agencies who apply for admission to the APSN Schools should note the criteria provided in the "Parents' Guide for Children with SEN (Special Educational Needs)", available at the website of Ministry of Education's Special Education Branch (SEB) here
Application

Processing

Communication

Placement
(a) Mainstream midstream transfers to SPED schools
Mainstream Mid-stream Transfer Policy - Transfer from Mainstream School to SPED School
With effect from 10 October 2022, applications for a transfer from a mainstream school to a SPED school must be facilitated through the student's mainstream school. Please approach the mainstream school Principal to apply for the transfer.
Direct applications from parents/legal guardians, private professionals, and hospitals will not be accepted.
For more information, please visit https://www.moe.gov.sg/special-educational-needs/apply
Waitlist Policy - Waitlisting in SPED Schools for Primary 1 / Junior 1 Placement
With effect from 1 January 2023, a child applying for placement in Primary 1 / Junior 1 in a government-funded SPED school can only be placed on the waitlist if the child has first been placed in another government-funded SPED school(1) which serves the same primary diagnosed condition. Please refer to this link for the list of SPED schools categorised by the primary diagnosed conditions.
(1)A child placed in a mainstream school will not be eligible to be on the waitlists for SPED schools. Should there be interest to transfer the child to a SPED school, please refer to the "Transfers from Mainstream Schools to SPED schools" section for more details
This requirement will also apply to returning Singaporeans entering SPED schools at all levels(2).
(2)This requirement will not be applied to P3 and above children who can access ASD-NC schools in 2023. This is because Pathlight School is the only ASD-NC school that offers P3 and above classes in 2023. This requirement will be extended accordingly to P3 and above children when the other ASD-NC school, St. Andrew's Mission School progressively offers P3 and above and secondary levels.
(b) Admission Process for Other Applicants
All applications to APSN should be made using the standardised SPED School Application Form or via the QR code below and submitted to the first choice SPED School. For children whose disability profile are served by three or more schools, it is important for parents to list three choices of SPED schools which are suitable for your child's disability profile.
The SPED School Application form has four sections. Each section can be completed separately and concurrently by the relevant parties before it is submitted to the first choice SPED school. The four sections are:
Section I: To be completed by referring agency and parents
Section II: To be completed by a teacher
Section III: To be completed by a medical doctor
Section IV: To be completed by a psychologist
When completing the form, you should also refer to Chapter 4 of the accompanying User Guide for the SPED School Application Form. The application can only be processed if all required documents are received in order. Missing or inaccurate information may result in delays in processing of the application.
Additionally, where applicable, for applicants residing or had resided in a Home (e.g.. residential/children's homes) and/or known to MSF/child protection services/Rehabilitation Officers, a social report or update from relevant professionals is required.
Applications are processed to ensure that your child's learning needs can be best met in the school. Where necessary, APSN may contact you for additional information, or meet with you and your child, to match the suitability of your child's profile to the school.
If there is no vacancy in the first choice school, your child's school placement in an alternative suitable school will be facilitated, taking into consideration your school choices.
For parents of children born after 1 Jan 2012, you have to fulfil your Compulsory Education obligations by enrolling your children in the first choice school, if your child was successful in getting a place, or in the alternative suitable school.
If the first choice school is found to be unsuitable for your child's learning needs, your application will be referred to MOE's Multi-Agency Advisory Panel (MAAP). The MAAP comprises specialists and professionals from MOE, Ministry of Health, SPED schools and National Council of Social Service, who will make a recommendation based on the educational interest of your child.
You may also contact your first choice school or referring agency if you have queries on the application.
Your first choice school will inform you of the outcome of your application. For all successful applications, you will be notified by the first choice school through a Letter of Offer for admission.
Once you have decided to accept the offer from the school, you must register your child at the school within two weeks from the day you receive the Letter of Offer to confirm the placement.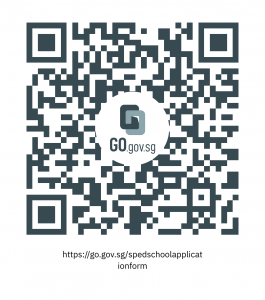 Admission to APSN Centres
Parents and referring agencies who apply for admission to APSN Centre for Adults (CFA) should take note of the following criteria:
The applicant is at least 18 years old at the time of referral.
The applicant has been assessed to have an IQ level of 50 – 70, with concurrent significant limitations in adaptive behaviour as expressed in conceptual, social and practical adaptive skills.
For applicants previously not from an APSN school, the psychological assessment should not exceed two years prior to the date of referral.*
Medical assessment should not exceed one year prior to the date of referral.*
Hearing assessment should not exceed one year prior to the date of referral.*
The applicant should not have another significant disability, which may affect their ability to cope within the context of APSN Centres.
At the time of admission to APSN Centres, the applicant should possess a basic level of self-help skills (for example, independent in toileting, dressing, grooming, eating and making simple purchases).
The medium of instruction at APSN Centres is English.
At the time of admission, the applicant should be physically mobile and able to travel using public transportation independently.
The applicant must not have a history of or current severe psychiatric disorders.
The applicant must not have major disruptive behaviour, such as self-injury, suicidal threats, physical/verbal/sexual aggressiveness toward others, and stealing.

APSN Centres are committed to providing equal opportunities to all applicants with Mild Intellectual Disabilities, regardless of gender, age, race, ethnicity, religion or marital status.
Once the applicant is assessed to be eligible for admission, the applicant will go through a 3-months trial and work assessment at the centre. Admission into the work training programme will be given to successful applicants when a vacancy arises.
* If no such reports are available, the applicant will be referred to a relevant partner for the procedure(s), and may be expected to bear the cost of the assessment (if any).
Applications are accepted throughout the year.
Applicants who are APSN alumni (i.e. previously enrolled in an APSN schools) may apply through APSN Alumni Services.
All other applications can be made through SG Enable's application portal. Please approach a social worker from a touchpoint (e.g. Social Service Agency (SSA), hospital, etc.) or previous educational facility for assistance in submitting an application to SG Enable.
All applications will be received by APSN CARE (Centre Assessment and Review for Enrolment), a panel of allied professionals that:
Acts as a one-stop point for APSN Centre admission.
Provides information to caregivers/stakeholders on centre's programmes, services and application procedures.
Uses Person-Centered model to understand the client's strengths, interests and experiences.
Conducts holistic and targeted assessments based on centre's training and employment/industry needs.
Performs right-siting based on client's suitability and potential to thrive in APSN Centres.
APSN CARE will review the documentation and arrange with applicant and caregiver for an interview if basic criteria for admission are met. During the interview, the applicant will be assessed by occupational therapist, psychologist, and instructor or job coach to determine the programme he/she is best suited for and accommodations needed to support his/her transition and learning.
Once the interview and medical report is complete, the panel will make a decision on whether to accept the applicant. Caregivers can expect to hear from APSN within a month about the outcome. Successful applicants can be enrolled at the beginning of the month following their being informed of their acceptance.
For inquiries about our admission criteria or CARE process, please contact us at care@apsn.org.sg.
For more information on Sheltered Workshops, please visit the SG Enable website here.