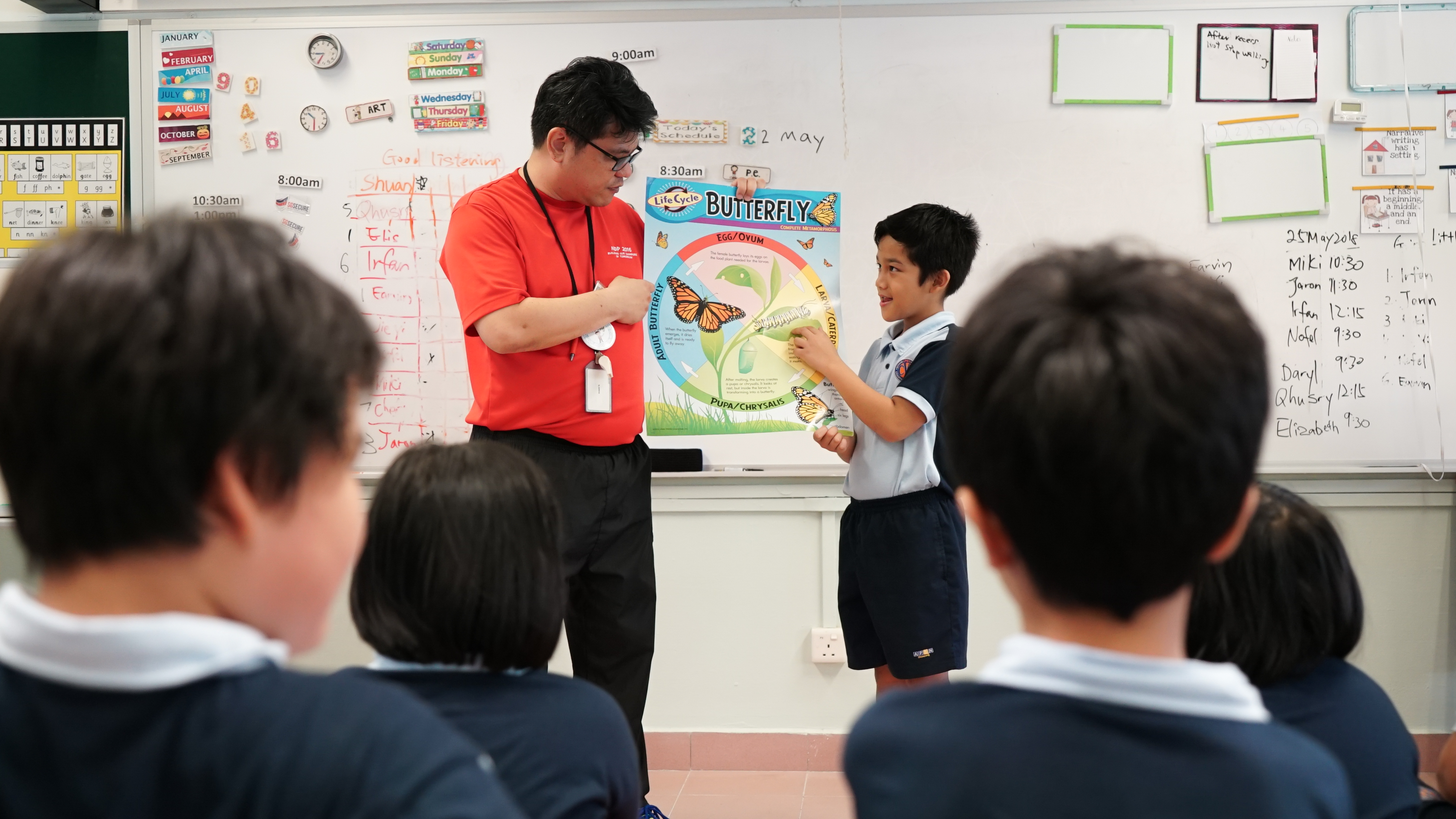 Be Part of APSN 
As an organisation, APSN believes in training employees and investing in their career development. We look after employees' needs in order to strengthen morale and job satisfaction.
We benefit as a member of National Council of Social Service (NCSS) from extensive training programmes which we participate in.
Come onboard for a rewarding career that turns your passion into a profession! We welcome new members to contribute to our warm and vibrant culture, in an environment that embraces knowledge-sharing and collaboration.
Responsibilities:
To perform the entire accounting functions for a school such as maintaining accounting records, preparing monthly accounting statements / financial reports and annual audit schedules; assist in preparing and administering budget of each programme within various departments.
Responsible for full set of accounts for a school
Close monthly accounting books and prepare month-end reports
Prepare monthly variance analysis
Reconcile bank account on financial transactions
Prepare annual audit schedules
Assist in submission and monitoring of annual budget
Advise staff on budget process and attend to staff claims and inter-school debit notes
Account for data entries for staff claims and general ledger entries for accruals and prepayments
Attend, verify and process purchase orders and invoices
Maintain and reconcile fixed asset listing
Monitor fund usages are in compliance to the designated purposes
Make claims from MOE, National Arts Council and Tote Board ICT Fund etc.

Measurable Deliverables:
Close and submit monthly accounts / financial reports timely
Submit variance analysis and monthly bank reconciliation
Submit annual audit schedules
Maintain excellent documentation for audit purpose
Prepare and submit payments within stipulated time lines (twice a month)
Ensure no budget overrun in each fund category and the overall school budget

Requirements:
Diploma in Accountancy or equivalent
Knowledge in handling full set of accounts
Proficient in Microsoft Office, knowledge of ACCPAC preferred
Planning and organising skills
Meticulous and organised with a positive attitude
Analytical and problem solving skills
Able to work effectively with minimum supervision
Good written and oral communication skills
At least 3 years relevant working experience
Location:
APSN HQ
Assistant Manager/ Senior Executive (Operations & Projects)
Responsibilities:
This Assistant Manager/ Senior Executive is responsible for the assisting with the Implementation, planning and monitoring of operations activities for the Association. You will work closely with the Functional heads, School and Centre heads for implementation of operations processes and projects initiatives that will drive higher operations efficiency.
Estate and Facility Management
Assist, facilitate and drive the Estate and Facility Management for APSN College (AC) and future APSN Community and College (ACC)
Advice the School and Centre operations team on estate management issues encountered by the ground staff.
Facilitate and implement Safety and Security initiative, plan Improvement and streamline operational plan to achieve higher efficiency for
Review on Estate and Facility contract scope and to advise Schools and centre on contractual related matters
Business Contingency Management
Ensure regulatory compliance for all emergency preparedness requirements
Assist with the preparation of plans and to implement the necessary measure to ensure business continuity for APSN
Work with functional and unit heads to ensure proper communication of plans to schools and centre
Compliance of Operating Procedures (SOP) and Work Instructions (WIs)
Assist and review existing SOPs and WIs to ensure alignment of operations
Work with functional and unit heads to ensure SOP and WIs are implemented accordingly
To carry out random check and record all breaches of operating procedure and WIs
Process Improvement
Work with Schools and Centre on process improvement initiative driven by HQ
Collaborate with internal and external stakeholders to streamline process so as to achieve better efficiency
Risk Management
Assist SM O&P with the development of organisation Risk mitigation plan.
Co-chair risk review meeting with Schools, Centre and College and develop implementation plans
Organisation Development
Lead Internal Auditor for ISO9001
To assist with tactical implementation of ISO9001 for APSN
To work with the different stakeholder and communicate the requirements of the Quality Management System
Project Management
Carry out project tasking assigned by SM O&P
Requirements:
Diploma or Degree with working experiences in Operations and Project Management.
At least 3 years in related area of work. Candidate with more years of experience shall be considered at Assistant Manager Level
Good domain knowledge in estate and facilities management; crisis & business contingency management and project management.
Working knowledge of industry's best practices and familiar with local regulatory requirements relating to safety, security, building and environmental standards.
Succinct written and verbal communication.
Good Influencing and negotiation skill.
Good time management, attention to details & analytical competencies.
Location:
APSN HQ
Responsibilities:
Your primary role will manage, process and analyse HR data to facilitate executive decision-making for APSN-HR. To be successful in this role, you must be proficient in database management applications such as MS excel, SPSS and other data analytical tools.In addition to your primary responsible, you will also be part of the team to provide support on:HR Management System (HRMS) Advisory

Prepare monthly reports/ dashboards for HR management
Assist and guide staff through the Employee Self Service (ESS)
Vendor manage for any system and/or any technical issues relating to the HRMS

Talent Acquisition

Provide end to end support to the Talent Acquisition team from point of job posting through to on-boarding arrangements.
Support the Talent Acquisition Team to ensure the timely delivery of confirmation and contract renewal advice
Manage Employee P-file throughout employee lifecycle in compliance with audit standards

Learning & Funding Administration

Drive and coordinate training participation on APSN-wide basis
Familiar with various government funding schemes and facilitate the application process from end-to-end.
Manager and track progress of funding claims and ensure fulfilment of bonds

Others

Participate and/or provide support to HR-centric projects
Requirements:
Minimum Diploma in Human Resource/ Business Management or its equivalent
Minimum two years of relevant HR experience
Meticulous, analytical, organised and have an inquiring mind
Proficient in Excel and other statistical tools is a necessity
Clarity in communication across different groups of stakeholders
Location:
APSN HQ
Responsibilities:
Provide assessment and treatment plan to cater to individual student's occupational therapy needs and implementation of treatment programs to enhance their skills including proper documentation of their progress
Review treatments periodically, evaluating students' progress and making changes to treatments as needed
 
Requirements:
Recognized diploma/degree in Occupational Therapy with minimum 2 years clinical experience
Good team player with strong communication and interpersonal skills
Relevant work experience with children and young adults with intellectual disability would be an advantage
Ability to work with minimum supervision
Relevant work experience with children and young adults with intellectual disability is an advantage
Preferably with industrial knowledge in Work, Health and Safety
Valid practising certificate with Allied Health Professional Council (AHPC)
ACTA certified would be highly preferred.
Location:
May be posted to any APSN School
Student Care Centre Supervisor
Purpose of this Role
As the Student Care Supervisor, you will drive the care and supervision of school-going children aged 7 years (Primary 1) to 16 years (Secondary) and support working parents in the care arrangements for their school-going children. Ensures the overall well-being of the Centre as well as children's holistic development.
Responsibility:
Build a conducive environment for the children's holistic development in various dimensions, including physical, intellectual, emotional, social and moral development as well as a place to rest after school hours.
Supervise the Centre's daily activities, including school care programmes – supervising children's homework, enrichment and recreational activities.
Review, develop and implement projects, events, external partnership management including volunteers and other stakeholders.
Evaluate effectiveness of care programme and track progress of students.
Engage parents, teachers, government bodies and relevant stakeholders on matters relating to the management of the Centre and children's development.
Ensure and enforce compliance of health and safety procedures in the Centre at all times.
Accountable for the income and expenditures of the Centre, including proper records keeping and standard operating procedures to be put in place.

Requirements:
Minimum 5 years of working experience in social services sector, of which at least 3 years in a supervisory capacity in a student care environment.
Possesses a Degree/ Diploma in Social Services or related disciplines.
A result oriented team player who is mature, dynamic, self-motivated and able to work under minimum supervision.
Good communication and interpersonal skills with the ability to work with different level of people.
Demonstrated capabilities in organising, problem solving and supervising a team.
Location:
APSN Chaoyang School