Programmes
Vision
Our students are attentive listeners, purposeful readers, effective communicators and valued contributors to society
Mission
To equip students with literacy skills, and develop their capabilities for active participation in the community
English curriculum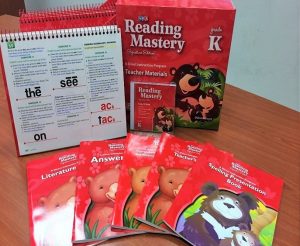 The Primary English curriculum focuses on developing the foundations of literacy knowledge and skills, through the Reading Mastery (RM) Reading Strand and Shared Book Approach (SBA). To better prepare pupils to access the curriculum across various subject domains, pupils are taught explicit reading skills such as decoding of letters and sounds. To further enhance the curriculum, a handwriting programme, Handwriting without Tears (HWT) was introduced for lower primary pupils. The HWT programme is designed to develop letter and number recognition skills, while focusing on handwriting skills such as correct posture, pencil grip and strokes.
As pupils progress to the secondary level, the English curriculum adopts a functional approach, aligned to the SPED outcomes of Living, Learning and Working. The functional curriculum focuses on Reading and Listening comprehension, Language Use, Writing and Oral Expression. The curriculum also prepares students for external assessments, such as WSQ Workplace Literacy (WPL) Reading and Listening. To further enhance the curriculum, ICT was introduced to equip students with functional keyboarding skills and basic Microsoft Word and PowerPoint skills.
Vision
To provide a RICH Math learning experience.
(R: relevant;  I: interesting;  C: collaborative;  H: holistic)
Mission
To make Math learning interesting, practical and relevant to pupils' daily lives.
Numeracy for both primary and secondary students is organized into modules according to the different levels of difficulty.  This modular approach is to facilitate the teaching and learning of students of varying abilities across the primary and secondary levels.  The curriculum comprises the following 4 performance areas:
Counting & Computation
Measurement
Budgeting
Scheduling
Problem Solving and Data Analysis are embedded into the 4 performance areas to enable students to experience explicit meaning relevant for their successful daily living.
Vision
Physically safe, active & healthy lifestyle for all students
Motto
Aspires to achieve
Our goal for every APSN KS student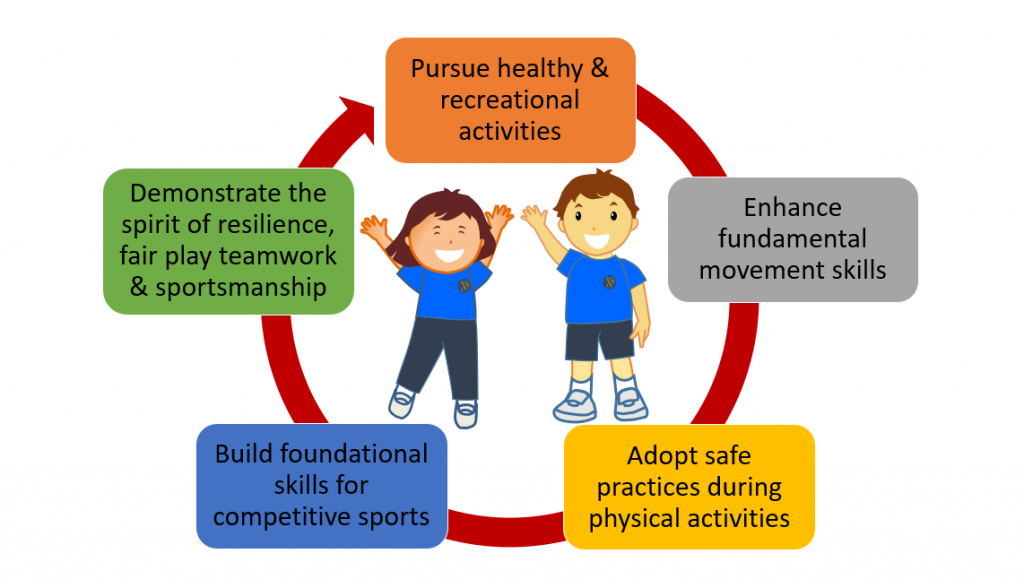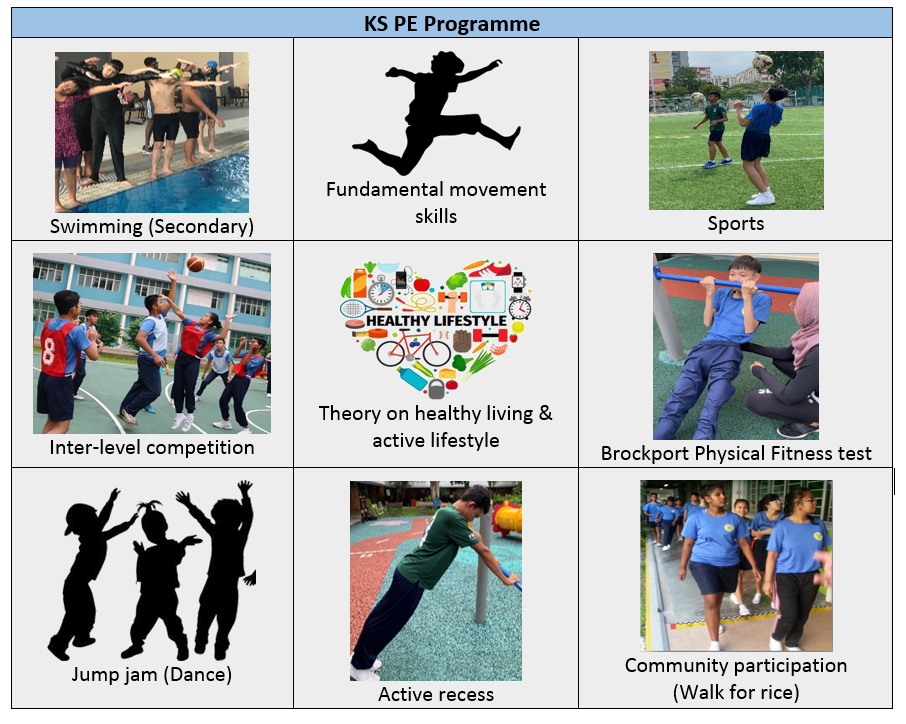 In APSN Katong School, Vocational Education is taught to all students from the age of 11 to 16 years old.
Mission
Valued in the workforce, Active in Society
Vision
To equip students with the necessary work readiness skills and knowledge to succeed in their future employment
VED is guided by the following key principles:
Explicit Instruction
Leaner-Centered
Authentic Learning
Close Partnership with Parents
Close Partnership with Employers
Components of VED Curriculum: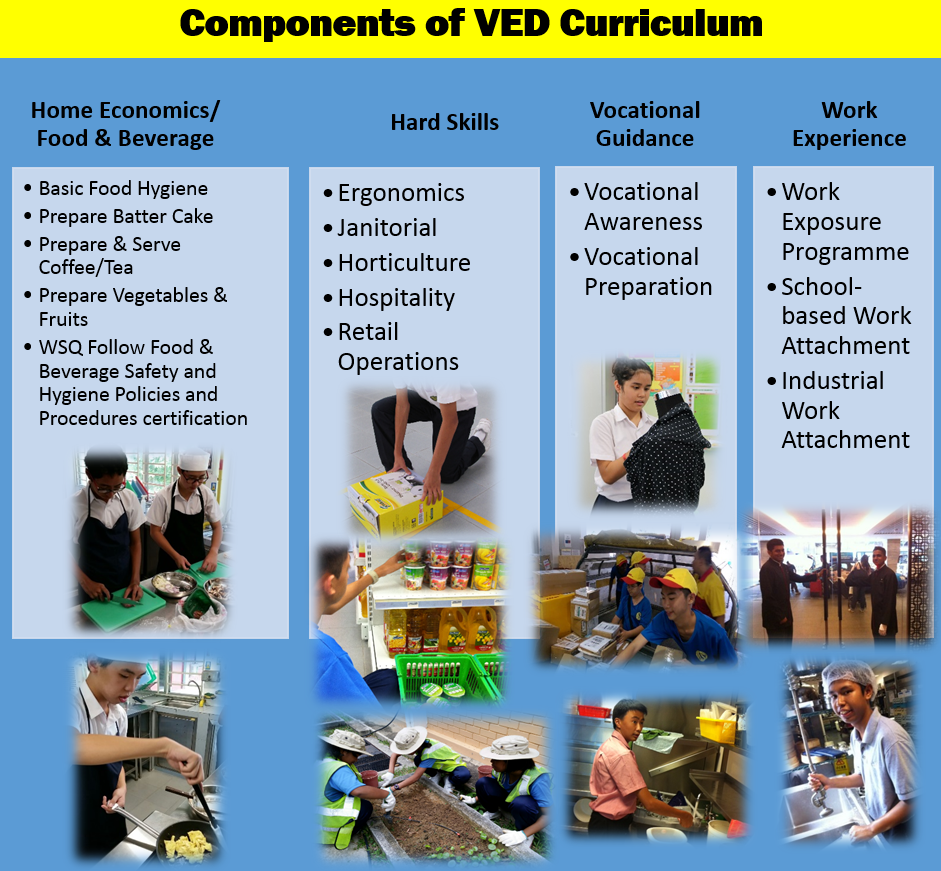 Aesthetics forms an integral part of a child's holistic education in Katong School. It complements the child's cognitive, moral, and social development. The school offers aesthetics activities for students to showcase their talent both at school and in the larger community. Through practical and creative activities, students build self-confidence, broaden their horizons and develop an appreciation for the arts, thus enabling them to be well-balanced individuals in life.
Social Emotional and Daily Living (SEDL)
Social Emotional Learning provides opportunities for our students to acquire skills and knowledge which enable them to manage self and relationships effectively. The skills also allows them to make responsible decisions essential for personal and social well-being.
Through regular teaching, our students become competent in daily living skills, such as food preparation, personal hygiene and dressing routines. Students also develop skills to adapt and function independently.
Vision
Foster resilience to enable students with autism integrate into the MID Programme 
Mission
To equip students with essential socio-emotional skills and appropriate work habits necessary for a smooth integration into the MID programme.
The ASD Structured Programme prepares students in the spectrum for MID integration.  Aside from the regular subjects offered in the MID curriculum, a structured sensory programme in collaboration with the Allied Professionals is embedded into the curriculum to help students self-regulate. The sensory programme also support language development, cognitive growth, social interaction as well as fine and gross motor skills.
Explicit teaching of life skills, social skills, emotional regulation and classroom readiness are integrated in the daily teaching. In addition, the learning environment is modified according to the students' needs and interests to enhance learning.
Co-Curricular Activities (CCAs)
The CCA programme comprises 4 main categories, visual sports & games, uniform group, performing and visual arts. These activities aim to improve students' health, heighten self-motivation and build skills such as social skills, leadership skills and skills for effective teamwork.
CCA is a platform for our students to build character, hone and showcase their talents and learn to interact positively with others.
Allied Professionals (APs)
APs comprise occupational therapists, social workers, psychologists, and speech language therapists. APs provide individual and group therapy services to students to enhance the participation and learning in school. Aside from individualised and group sessions, APs have programmes that addresses the specific needs of the students. The following programmes are in place to enhance cognitive, physical, emotional and daily living skills for students:
Transition Programme
Handwriting without Tears Programme
The Listening Programme
School Readiness Programme
Social Skills Programme
Vision
Promote a collaborative effort to ensure effective supports for a smooth post-secondary transition planning.
Mission
To equip students with the necessary skills to have a voice in setting and achieving their goals.
Individualised Transition planning in APSN Katong School aims to enable students with special needs to transit smoothly from school to post school setting.  Key programmes such as assemblies, student-led conferences, road-shows, open houses and learning journeys are integral components of transition planning in APSN KS.
APSN Katong School's Transition Programme adheres to the key guiding principles of SPED's transition planning, which is person centred and allow the students to have a voice in decision-making. Individualised living, learning and working goals are set based on the students' interests, strengths and preferences.  Stakeholders collaborate with parents and students to ensure proper supports are given at each stage of transition. With effective structures in place parents are provided with valuable information to help them plan effectively for their child's post-secondary education.
School Information
Phone
+65 6445 8027
Fax
+65 6445 6313
Email
ks@apsn.org.sg
Principal
Mdm Ng Puey Koon
Address
900 New Upper Changi Road
Singapore 467354
School Hours

Secondary
Mon – Tues: 7.45am – 1.00pm

Wed – Thurs: 7.45am -12.30pm

Friday: 7.45am – 11.30am

Primary
Mon – Tues: 12.30pm – 5.15pm

Wed – Thurs: 12.30pm – 5.00pm

Friday: 1.00pm – 5.00pm

School Fees
$20/month (For Singaporeans/PR)

*$4064/month (For International Students) *as of FY20 (Subject to changes periodically)
To order school uniform online, please click on the following link:
Bulletin Board
2020 FamilyMatters@School
2020 Public Talk and Family Matters@School
The Public Talk is organised for parents who wish to know more about APSN – Katong School for students, 7 to 16years old with Mild Intellectual Disability. The talk will provide an overview of APSN, APSN's educational pathway, the School's key curriculum programme, admission criteria and application process.
The schedule for 2020 Public Talks is as follows:
Due to COVID-19 Circuit Breaker, all Public Talks and Student Admissions are on hold. You may still send in your application via email, and we will contact you.
To register for the Public Talks, please email Amizah Binte Othman amizah@apsn.org.sg  with your name, contact number and number of people attending.
For admissions, please email application form to Amizah Binte Othman amizah@apsn.org.sg and Chang Wei Ling chang.weiling@apsn.org.sg 
Katong School will consider the applications from applicants aged 6-16 years (as at 1 Jan of year of admission) who fit the school's disability profile based on professional diagnosis and assessed needs as well as those referred by MAAP.
For further enquiries, please call 6445-8027.
Achievements
Listening Educator for Advancement and Progress (LEAP) Award: Mrs Stella Ho
Special Olympics Singapore Bowling Competition:
Chow Hui Xuan (Gold)
Mikaylah Lee En Suan (Silver)
Muhammad Daniel Bin Muhammad Nur (Bronze)
Dustin Rajadurai  (Certificate of participation)
National School Games Championships, Para Tenpin Bowling:
Chow Hui Xuan (Gold)
Mikaylah Lee En Suan (Silver)
Muhammad Daniel Bin Muhammad Nur (Bronze)
Dustin Rajadurai  (Certificate of Participation)
SDSC Singapore National Games:
Chow Hui Xuan (Gold)
Toh Yue Ying (bronze)
Muhammad Daniel Bin Muhammad Nur (Bronze)
Haw Par Youth Para Swimming Championships:
(Gold Relay event)
Jayden Tan Kuan Guan
Jeremy Ng Yih Hao
Lim Wei Jie Sean
Alisha Hadirah Binte Abdul Hadi (Gold, 25m Freestyle)
Jeremy Ng Yih Hao (Bronze, 50M Breaststroke)
Lim Kai Jie Kengen (Silver, 50m Freestyle)
Lim Wei Jie Sean (Gold, 50 M Breaststroke &  Silver, 50M Freestyle)
Mong Qian Hui (Gold, 50 M Freestyle)
Muhammad Hafazha Bin Abdullah Jailani (Bronze, 50M Breaststroke)
Nabilah Tsabitah Binte Mohammad Zakir (Gold 50M Breaststroke)
SPH Foundation National Inclusive Swimming Championships: Mong Qian Hui – Gold medal and best individual performance under female autism 50m freestyle
Listening Educator for Advancement and Progress (LEAP) Award: Mrs Sharmala Risiya Sangar
Listening Educator for Advancement and Progress (LEAP) Award
Certificate of Commendation: Ms Poh Jie Ying, Ms Joyce Lin, Mdm Wee May, Mdm Wang
Achieved more than 100 hours of Family@school programme Matters by the Ministry of Social and Family Development (MSF)
MOE-NCSS Outstanding SPED Teacher Award (OSTA): Mdm Choo Pee Ling
MOE-NCSS Outstanding SPED Teacher Award (OSTA) Merit Certificate of Commendation: Mrs Stella Ho
Subscribe to our e-newsletter