Programme Overview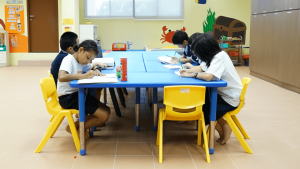 APSN Student Care Centre (SCC) was established in 1992 to provide before and after school care programmes for students with special needs aged 7 to 18. Our services are available to all Special Education (SPED) school-going students. The conducive and supportive environment facilitates growth, development and learning, giving working parents peace of mind.
APSN SCC was relocated along with APSN Chaoyang School in January 2018 to provide for 50 students. The facilities were renovated to provide an increased range of services to suit the students' needs. Presently, the new premises sport a proper dining area, sick bay, calming corner, a rock climbing wall, indoor sandpit, pet corner, computer area, and its own garden space (the previous garden area was a shared corner). The renovations were funded by Ministry of Social and Family Development and Marina Bay Sands.
COMCARE financial assistance can also be applied through APSN SCC. Please contact us or approach any of the staff to find out more.
Subscribe to our e-newsletter