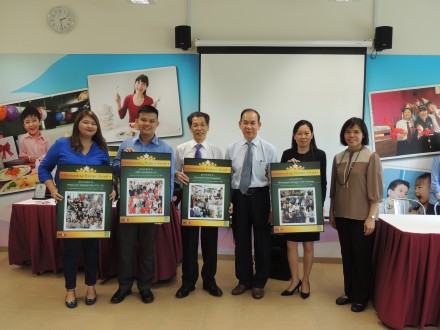 DSS Partners' Appreciation Lunch and Sharing (PALS)
On 9 March 2016, Delta Senior School (DSS) hosted their Partners' Appreciation Lunch and Sharing Session. Donors, sponsors and loyal partners of DSS came together on this day to enjoy a lunch treat prepared exclusively by DSS' very own students.
Mdm Aslinah opened by thanking and acknowledging their supportive partners who have worked closely with DSS for many years. During lunch, the crowd were entertained by numerous performances by DSS students and staff. The commencement of the session in the afternoon began with Mr Chan Chee Keong (APSN President) sharing the 40 years of APSN's journey. Awards were also given out for outstanding contribution and high involvement from partners. Mr Venga, SG Enable Assistant Director of Employment Services, shared a very informative segment with the crowd on the facilities and services available at SGEnable and the Enabling Village. Keynote speaker, Mr Brenton Ong, Director of Human Resource of Concorde Hotel Singapore, was candid and inspiring in relating how his company had been partnering DSS in giving opportunities to students for work experience and placement. The day closed off with a lively panel discussion, which drew a lot of questions and interactions with the attendees.