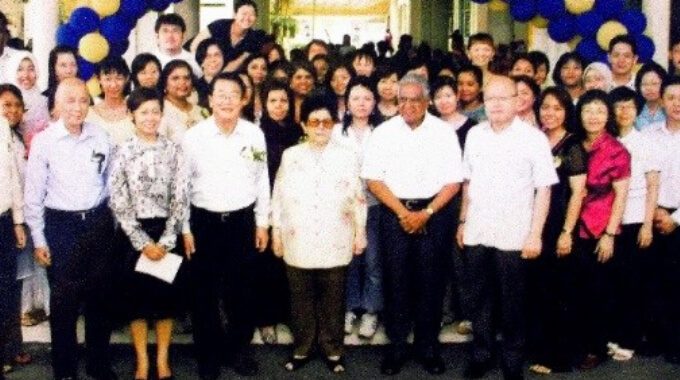 APSN mourns the passing of Mr SR Nathan, a strong supporter of the special needs community
Together with our nation, APSN mourns the passing of former President Mr S R Nathan.
Whilst as President, Mr Nathan visited our APSN schools at least four times, twice to officiate the opening two of our schools – APSN Chaoyang School and APSN Katong School.
Our Emeritus President, Dr Francis C. Chen who was on hand to receive Mr and Mrs Nathan each time, recalled that they  showed great interest in the welfare of our special needs children and fondly interacted with them. Vice-President Dr Victor Tay, commended that Mr Nathan is a strong and exemplary supporter of the Charitable sector, providing an uplifting beacon of hope, propelling Singapore towards an inclusive society when many in the society were sceptical of the capabilities of special needs.
Mr S R Nathan as a trained social worker also advised us to track our students after they have graduated from our system to see if any of them required further training or re-training after finding open employment.
We pay tribute to a President who cared for the special needs community and who had raised millions of dollars for charity through the President's Challenge events.
Aurora Lui, 17, a Year 1 student in Retail Operations, APSN Delta Senior School recalled, "I remember Mr Nathan coming to Chaoyang School when I was Primary 1 in 2006. He was there to do the opening of the school in Yio Chu Kang. He gave a speech to the students and I remembered that it was quite inspiring for me and my friends. Sometime last year, I performed at one event where Mr Nathan was present. After the performance, I got to shake hands with him. I was very proud and happy to be able to meet him in person. Mr Nathan is a very inspiring person and he made me feel important when he talked to me. He is also very kind to every people in Singapore."
Our condolences to Mrs Nathan, who was also a great advocate as former Patron of Children's Charities Association of which APSN is a member.