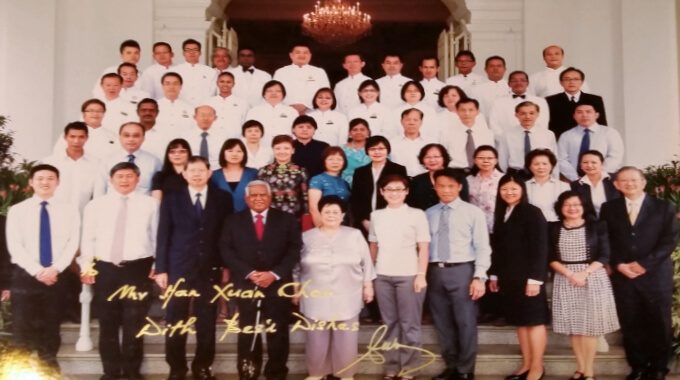 APSN Katong School's Culinary Trainer remembers Mr S R Nathan
Mr Han Xuan Chou, currently a Culinary Trainer at APSN Katong School (KS), served as Chef De Partie at the Istana from 2008 to 2011. He was part of the team that prepared Mr S R Nathan's last farewell lunch as President in August 2011.
"It has been a privilege and honour to be part of the President's Office Family 8 years ago…. Preparing your meals for 4 years until the change of presidency together with the Team (Richard, Uncle Hoon and Poh Ee). Thank you for been such an awesome, humble, simple, approachable and no airs President and lastly for your contribution towards the nation. I learnt a lot from you about charity and giving back to the society whether you are rich or poor as long as you can contribute something. May you rest in peace, Mr S R Nathan Sir," said Mr Han reflectively.
Mr Han also said that one of the very main reason he joined APSN was because he was inspired by what Mr Nathan has done for the special needs community. Mr Nathan had always been the main pillar of support for students with special needs and those who were academically weaker than others. He always believed that everyone can make a valuable contribution to Singapore in any unique way possible and that they should be given opportunities to excel in life.
Mr Nathan was a compassionate leader and he embodied many values that was inspiring. Another important thing that Mr Han learnt from Mr Nathan was about charity and giving back to the society. No matter how rich or poor one is as long you contribute something and do your part, the world can become a better place for everyone to live in.