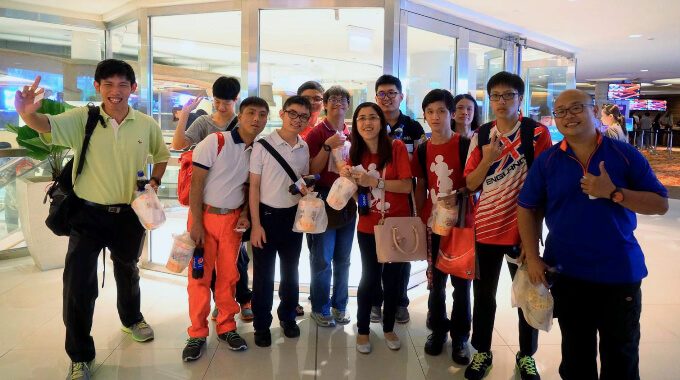 "A man has made at least a start on discovering the meaning of human life when he plants shade trees under which he knows full well he will never sit."-  D. Elton Trueblood
2 September 2016 marked a memorable day for the Citibank International Personal Bank's Client Franchise team.
As part of our annual Staff Appreciation Day, we invited beneficiaries from the Association for Persons with Special Needs (APSN) to join us for a private screening of the movie, "The Secret Life of Pets".   A total of 13 beneficiaries joined us at the private screening held at the Shaw Theatres Lido.
While Staff Appreciation Day is typically a day of celebration and thanks for the team's contributions over the year, we wanted it to be about more than just us.  Adding a community element gave us the opportunity to reach out to society and broaden our own perspectives.
It was amazing to see the excitement and smiles on the beneficiaries' faces right from the start when we handed out movie tickets, popcorn and drinks.
Before the movie began, APSN's Program Head for Center for Adults, Mr. Philip Li, gave us an overview of what ASPN does and the Centre for Adults' role in the ASPN organization.  We were delighted to hear that there was a recently married couple who joined us and that it was movie date night for them!
Managing Director and Client Franchise Head for International Personal Bank, Mr. Henry Tong then gave gifts to each beneficiary as a token of appreciation for joining us at the movie premiere. Following the movie, many colleagues expressed their delight that we had invited APSN to join us.
"This initiative was an amazing start to my weekend. Thank you for organizing this!" said one colleague. Another added, "Can we do another event with them in the future?"
Concluding the evening, colleagues and beneficiaries took group shots to remember the fun night.
We at Citibank International Personal Bank would like to thank Gary Lim, Karen Tan and Philip Li once again for the opportunity to bring some happiness to the ASPN beneficiaries. We are already looking forward to future collaborations!