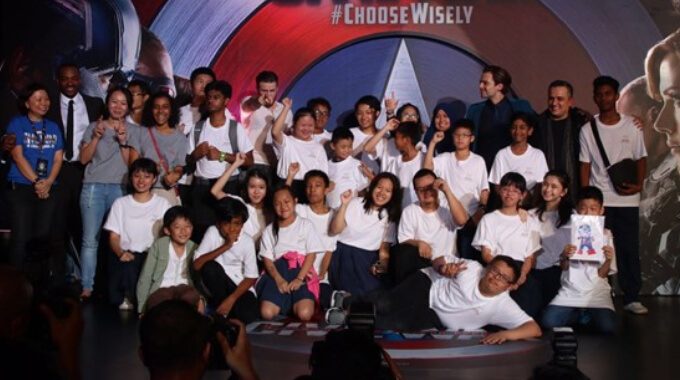 It is not every day that one gets to meet Hollywood superstars in person and 10 lucky students from APSN Katong School (KS) got to do just that when Team Captain America flew into Singapore. The event was held at Marina Bay Sands (MBS) and as one of MBS' beneficiaries, APSN received exclusive invites to get up close and personal with the stars of the upcoming movie Captain America: Civil War.
The blue carpet event was held on 21 April at the skating rink at MBS and #TeamCap was represented by Chris Evans (Captain America), Anthony Mackie (Falcon), Sebastian Stan (Winter Soldier) and Director Joe Russo.
Chua Hwee Xuan, 14, was one of the selected beneficiaries to go on stage to pose a question to a member of the cast. Despite the loud noises and frenzied camera flashes from media and movie fans, Hwee Xuan kept her calm when asking Director Joe Russo the question "Who is the strongest one on your team? And how do you know?" Of course Joe Russo's diplomatic reply was "Captain America".
To commemorate this occasion, APSN was also commissioned to produce two pieces of art work for Chris Evans and Joe Russo. Created by Mr Hairul and students of Katong School, the A3-sized depiction of Captain America's shield surrounded by Marina Bay Sands was stamped using red, blue and black stamp chops, similar to the ones used by teachers in class.
Even though the wait was long and the crowd was overwhelming, the students had an enjoyable and memorable evening star spotting. Some lucky ones even took selfies with the stars! APSN would like to extend a big thank you to Marina Bay Sands for this wonderful opportunity.