IHG Foundation Grants Gifts APSN US$50,000
The funds will allow the renovation of APSN Centre For Adults' (CFA) training kitchen and bakery according to industry specific requirements to be completed. This will in turn benefit at least 65 trainees in the Food and Beverage industry fundamental training programme. The training provides a fundamental course for new learners to kitchen, bakery and café crew training.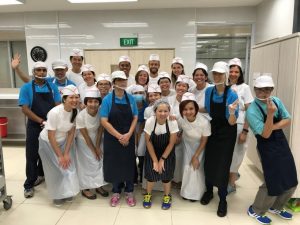 Beyond funding, the partnership with IHG began when APSN graduates and alumni were employed by the hotels under the IHG brand. In particular, Holiday Inn Singapore Orchard City Centre has been actively recruiting people with special needs over the past few years.
Apart from a celebratory lunch held on 12 September for 80 students and trainees from APSN schools and centre, 19 IHG staff from the corporate office came to APSN CFA for a morning of interaction with the trainees.
This included activities such as food preparation and baking of cookies in the catering and bakery enterprise respectively. It was a fun-filled morning with many meaningful takeaways for the staff where they have gained new insights and perspectives on persons with mild intellectual disabilities.