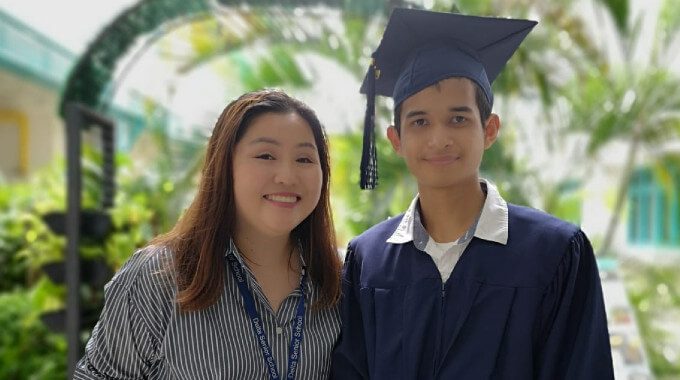 NTUC FairPrice Lends Strong Support to APSN Trainees
Farhat Azizi Abdullah was in APSN Delta Senior School's (DSS) graduating class of 2019. He was a student with fine motor skills issues and is also quite a lean young man.
During his work attachment with NTUC FairPrice, he had challenges handling cold grocery items at the FairPrice store at Hillion Mall. He was tasked to arrange things in the freezer, but his hands used to shiver when he put things in there.
When the FairPrice Operations team found out about this, they gave feedback to Farhat's APSN DSS Job Coach, Ms Goh Wei Tin (pictured), and together, they brainstormed on how to support him.
The Ops team was very accommodating.
"We are committed to provide support to our staff like Farhat, to help him succeed in his journey with us," said Mr Lin Dashun, Human Resource Manager at NTUC Fairprice Cooperative Ltd. "I'm personally very glad to see Farhat grow with us over time."
The Deltan takes instructions well from his supervisor, gets things done and is diligent. And that is why his school accelerated his pathway to full-time employment.
The partnership between the school and supermarket chain has been going strong for the past 5 years. NTUC was keen to have APSN's students to support an inclusive society.
Mr Lin remarks that the full-timers from Delta are steady, hardworking and follow instructions well. They perform retail assistant work such as housekeeping and stock replenishment.
"We usually tag them to a more senior staff, who will give them on-the-job training and provide guidance along the way. For emotional issues, we refer them back to the APSN job coaches who are more trained to deal with that kind of thing."
The Ops team is in constant contact with the APSN DSS Job Coach team and works closely together. According to one of the Job Coaches, "The Ops team has shown good flexibility when it comes to standard operating procedures. There are times when they bend, not break, rules – like how they did with Farhat."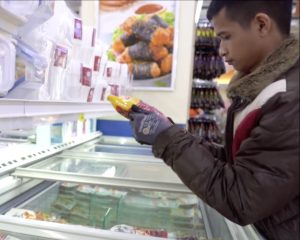 Patient, Empathetic Approach
Furthermore, APSN DSS conducts employer education sessions quarterly. Mr Lin said he attended the training and found it quite informative. He recommends the branch head or retail supervisor of FairPrice stores to go to learn how to handle their staff with special needs. "The key takeaway I got from the session is to have patience and empathy. We cannot think from our perspective; we must think from their perspective."
Mr Lin also briefs Ops team members on how to do basic problem-solving. For example, if there is a meltdown, they know who they should look for.
The HR manager finds that the most valuable aspect of working with APSN alumni is that his company is able to help persons with special needs. Many employers do not want to hire people with such conditions. It is a meaningful initiative that NTUC FairPrice has embarked on as part of its corporate social responsibility.
"Whenever I attend the APSN Graduation Days and Partners Appreciation Days, I always feel very excited, as I've witnessed these staff's growth over the years. This is the part that is special to me," Mr Lin concludes.
(Photos in the article are taken before the Circuit Breaker measures.)