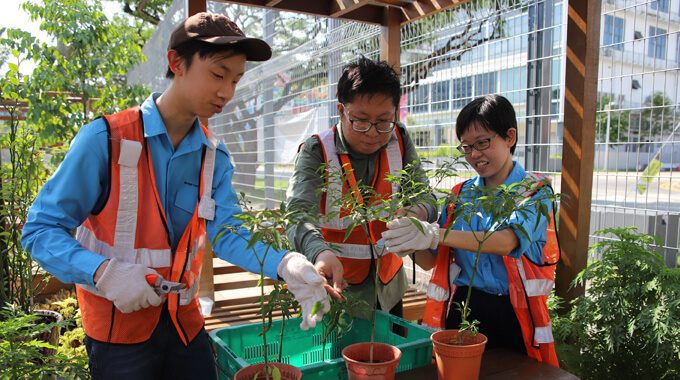 Still 13 Going (Green) on 30
Today (Jun 21) is International Climate Change Day.
There are several ways that Joel Lee, 30, and the Horticulture team at APSN Centre for Adults are kind to Mother Earth:
To maximise resources, they grow plants the APSN Catering and Bakery Enterprises can use like sweet basil for our ever-popular cranberry cake.
They blend eggshells after they are discarded by APSN Baking Enterprise and put it in the soil to nourish it with calcium.
They also reuse rice water from APSN Catering Enterprise to water plants to save water.
They use more coco peat, a soil alternative. If soil is overused, its value will be gone in 60 years.
They also reach out to other nearby community gardens at Kembangan-Chai Chee Community Hub by sharing soil and other gardening materials.
Joel's passion for plants started young and budded when he was only 13. Then, he had started volunteering at an elderly and child day activity centre where there was a garden. He found it to be therapeutic and had the power to change one's personality over time.
Later on in secondary school, he and two of his friends persuaded their principal to allow them to build a garden on school premises using their own resources. It made a difference in his schoolmates' lives. Those who were stressed out went there for relaxation and it was also a peaceful space to study. That inspired him to do more.
After six years of volunteering at APSN CFA three to four times a week, he became a staff in 2014 to fully pursue his passion in horticulture and make a difference in the beneficiaries' lives.
Some trainees at APSN CFA do not like working on the Horticulture track because it is hard work and they are often under the hot blazing sun.
"I tell them that in a real workplace, they also might not like certain parts of the job, but they still have to stay on. It builds perseverance in them. For me, when trainees grow, it feels good," says Joel.
Looks like Joel has the green thumb in nurturing beneficiaries too. Keep going, Mr Lee!
We are proud of one of APSN's four NParks Community in Bloom Ambassadors for his many contributions to the green movement.