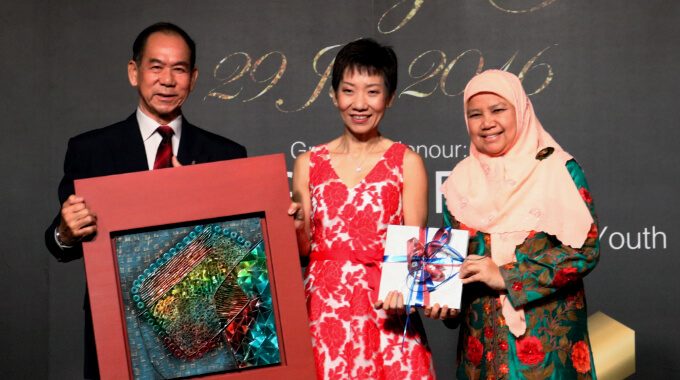 APSN 40th Anniversary Gala Dinner 2016
On 29 July 2016, APSN celebrated our 40th Anniversary of service to the Mild Intellectual Disability (MID) community at the Gala Dinner officially sponsored by Marina Bay Sands (MBS). The event was graced by Ms Grace Fu, Minister for Culture, Community and Youth, who took a trip down memory lane in the birth of APSN in 1976 (then known as AESN), its growth, challenges faced and its successes over its 40 years journey.
At the pre-dinner reception, APSN Chaoyang School's choir Merry Melodies serenaded guests with tunes of " I have a dream" by ABBA and a medley of songs from Disney movies Beauty and the Beast, Aladdin and The Little Mermaid.
Numerous art pieces and sculptures created by the APSN beneficiaries were auctioned off and with the support of the sponsors, we were privileged to have raised funds of close to $100,000 for the night. Guests were entertained through the night with performances by our very own talents: Circus Arts from APSN Katong School, Stomp Troupers from APSN Delta Senior School, and the LA Teens from APSN Tanglin School.
Since the establishment of APSN, we have received tremendous support from organisations, volunteers, alumni, staff and students. A total of 40 awards were presented to acknowledge them for their support and dedication to APSN.