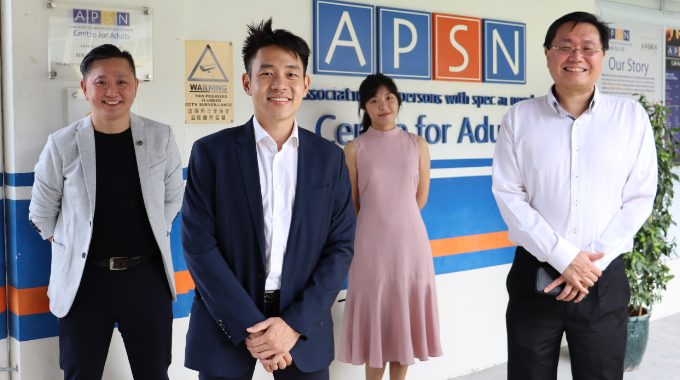 A Partner with a Big Heart for Blue-Collar Workers
"We don't believe in charity. If you don't work, I cannot help you. If you want me to help you, you must work hard. Then if you work hard, you do it well, we'll pay you well. That's our promise to you," says Alex Tham, Head of Operations at Nimbus, a facilities management business that provides maintenance and space-up-keeping services.
This would involve office cleaning, taking care of church spaces, and maintaining gyms. In doing so, it develops its staff, so that they can themselves lead lives with dignity and purpose.
Nimbus is one of APSN's latest employer partners. It will have a two-month apprenticeship programme with a pioneer batch of five to seven trainees in a few months, with an APSN Instructor posted to the Nimbus Training Academy. Then Nimbus will circulate them to the sites of the various partners – whether offices, churches or gyms – to give them exposure.
Following the apprenticeship programme, the APSN Job Coaches will be on-site for 12 months to support the trainees, assisting intensely initially then slowly phasing out. But they do not stop there. After the one-year period, the beneficiaries transition and supported by APSN Alumni Services. Whenever there are issues at work or with transitions, the APSN Job Coach can come in anytime upon request. So, there is lifelong support. The key thing is to sustain them in their employment, says Rick Lim, Deputy Director of APSN Training & Employability Services (ATES).
CEO Daniel Thong adds, "As a socially-driven organisation ourselves, we like to work with enterprises that are also purposeful. That's why we wanted to engage with APSN to explore how we could help develop people. I think we have the same mission for empowerment.
"We have hired persons with mild intellectual disability before. We don't see any difference between them, and people like you and I. From Nimbus' point of view, we believe everybody really has unique gifts. Our past experiences with them have found them to be very consistent and reliable, and they have a very good attitude. A lot of the times, it boils down to the support structure. From what I understand, APSN has a very good support structure in place."
Daniel says, Nimbus was founded because they had a vision to change how blue-collar workers are treated and compensated, and give dignity to the profession. As such, their workers are paid 20% above the sum mandated by the Progressive Wage Model (PWM), which sets out the minimum wages that cleaners, security guards, landscape gardeners and lift technicians should earn, and also specifies how much more they should be paid as they upgrade their skills.
"COVID-19 has put the spotlight on facilities management and has highlighted the kind of invisible work that people are doing and the importance of it. More than ever, I think we've realised that this industry matters," he affirms.
Alex concludes that the clients Nimbus works with must have shared values. "We won't send our workers to clients that would treat them unfairly. Daniel and I are very clear on this."