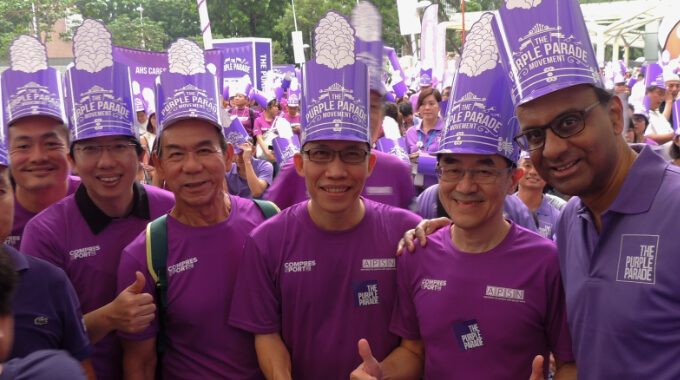 This year, the Purple Parade movement kickstarted its campaign on 11 October 2016 with a Purple Picnic at Suntec City. APSN invited corporate partners such as Marina Bay Sands, Lend Lease, Hewlett Packard, Shaws Preschool, Edunovation and six clients from APSN Centre for Adults to enjoy the food and partake in the stage programmes and fringe activities.
On 5 November 2016, the main Purple Parade event was held in the Suntec City arena for the very first time. Deputy Prime Minister Tharman Shanmugaratnam, Guest-of-Honour, together with CDC mayors and representatives of VWOs were all present to be part of the Purple Parade yearly event. Thousands of supporters donned purple tees to show their support to the event which supports inclusion and celebrates the abilities of persons with special needs.
APSN students, clients, staff, volunteers and parents all had their APSN purple tees marching proudly as part of the APSN contingent. Our schools were part of the programme for the day. APSN Chaoyang School Harmonica Ensemble showcased the harmonica playing skills, APSN Katong School Artisite Inc did a modern dance routine, APSN Tanglin School and Delta Senior School showcased  solo vocalist singers, Muhd Nur Hafiz bin Azman and Aurora. APSN Delta Senior School dance troupers also entertained the crowd with a cool number. The event not only showcased performances by different SPED organisations, but also boasted many stalls for all to eat, shop and play while supporting this amazing cause.