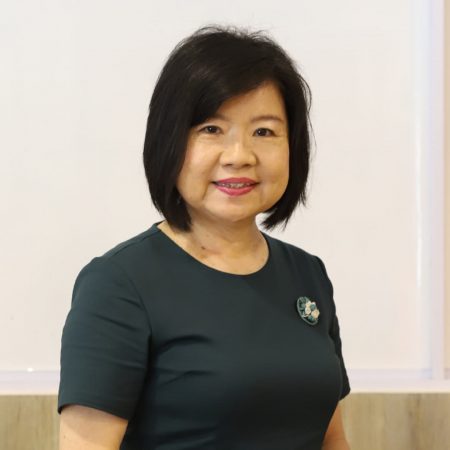 Ms Lily Yip joined APSN in 2006 and is currently the Head of Curriculum, Research and Innovation Development.  Prior to the appointment, she has served as the Vice-Principal of APSN Tanglin School, APSN Delta Senior School, APSN Katong School and Head of Curriculum and Projects for APSN Centre for Adults.  Lily has also served at the Ministry of Education (MOE) Headquarter as a Curriculum Officer (English Language) in the Curriculum Planning Division, a Guidance Specialist in the Psychological and Guidance Services Branch (PGSB) and as Head of Department in Physical Education and Pupil Management.
Lily holds a Master degree in Education Management and a Bachelor of Arts in English Language and History, with Diploma in Education from the Nanyang Technological University of Singapore (NTU). Her professional qualifications include the Diploma in Departmental Management, Specialist Diploma in Pastoral Care and Career Guidance, Diploma in Disabilities, Higher Certificate in Autism and Advanced Certificate in Training and Assessment (ACTA).
Lily is the recipient of the Prize Award, The Jurong Shipyard Gold Medal from NTU, as well as the Special Prize Award for Public Spiritedness and Service from the same institution.  She also received the Outstanding Award from her Alma Mater, Tanjong Katong Girls' School, and the Award for Exemplary Participation and Service in dissemination of international humanitarian law from the Singapore Red Cross Society. For her significant contributions to the field of special need, she received the MOE-NCSS SPED Teacher Award (Commendation) shortly, two years after joining special education and several MOE-NCSS SPED Innovation Awards for the projects she initiated in schools.
Lily's research interests include school-to-work transition of youth with intellectual disabilities, curriculum leadership and autism. She has presented numerous research at local and overseas conferences and has also published book chapters and journal articles on teacher education and teaching poetry to special education students. Lily's resource packages on life skills and sexuality education, co-developed with PGSB, are used in MOE schools.
Lily is the Singapore Representative for Asian Federation on Intellectual Disabilities. She also serves in the Ministry Inclusive Pre-school Workgroup and the Disability Research Coalition Roundtable.