APSN Charity Live Stream 2020
The Association for Persons with Special Needs (APSN) will be hosting our inaugural Charity Live Stream on 12 December 2020 (Saturday), from 4pm to 5pm, to raise funds for our trainees with special needs at APSN Centre for Adults.
Themed 'Hope Amidst the Storm', the Charity Live Stream will include performances by APSN students and trainees and silent auction segments. Through this occasion, we celebrate the resilience, determination, and talents of our trainees despite the trying times brought on by unforeseeable events of the year.
Click here to support us by making a donation via Giving.sg today!
Your gift provides our persons with special needs the opportunity to continue their special education and training, and be part of an inclusive society.
Date: 12 December 2020 (Saturday)
Time: 4PM to 5PM
Online via Facebook Live.
Do your part for charity, and stand to win a 3D2N staycation at Marina Bay Sands Singapore, Family Explorers memberships from Singapore Discovery Centre, Pizza Hut dining vouchers, and artworks from local celebrity Edmund Chen (陈之财) and APSN students.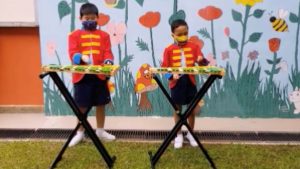 APSN Chaoyang School – Little Beans Ensemble
The Ensemble CCA aka "Little Beans Ensemble" comprises of students from Primary 2 to Primary 6. The teachers and students practised and trained hard for the past six months to piece together a musical presentation for the audience to enjoy. The Ensemble CCA provides a platform for the students to try out different musical instruments such as the Chinese drum and xylophones. Students learn rhythmic skills in a creative way where beats are converted to simple rhymes for each student to remember. The weekly practices allow students to build synchronization where they work together to create the perfect rhythm as a whole.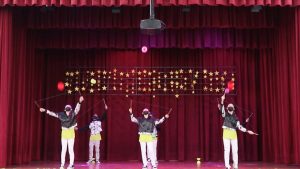 APSN Katong School – Circus Art
In this performance from the APSN Katong School's Circus Arts CCA or the POST Team (People of Special Talents), you will see the students' display of their talents in a variety of circus-related acts, such as the Chinese Diablo, juggling and coordinated skipping. Despite the Covid-19 pandemic this year, they did not allow it to dampen their spirits and worked extra hard through a combination of online lessons and face-to-face trainings to hone their skills to put up this amazing performance. The students truly demonstrated the school values of resilience and commitment and exhibited great teamwork in putting the show together for you. Hope you will enjoy their performance!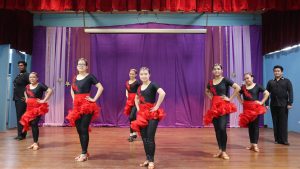 APSN Tanglin School – Cha Cha
The LaTeens is a group of students  and alumni from APSN Tanglin School performing to the Cha Cha's Cuban rhythm, with emphasis on hips movement, footworks and phrasing. The confidence in the performers is evident in the dance techniques and the smile on their faces.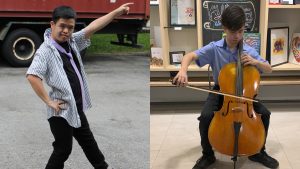 Shawn (APSN Centre for Adults) – Dynamite
Shawn is a trainee at APSN Centre for Adults, where he is trained in F&B, including maintenance of café cleanliness, and food and hygiene. During his free time, the 21-year-old loves to sing and dance. Stay tuned as he shows off his slick dance moves in his rousing performance of 'Dynamite' by Korean boy band BTS!
Royce (APSN Centre for Adults) – The Swan by Saint Saens
APSN Centre for Adults trainee Royce first started learning the piano, before moving on to the cello after interest in the instrument piqued. The 21-year-old will be playing 'The Swan by Saint Saens', a piece which he heard last year, and has since worked hard on perfecting it. At the Centre, Royce participates in all the activities that APSN CFA offers including baking, cleaning and social skills.
Check back for photos after the event!