APSN Café for All – Valentine's Day 2019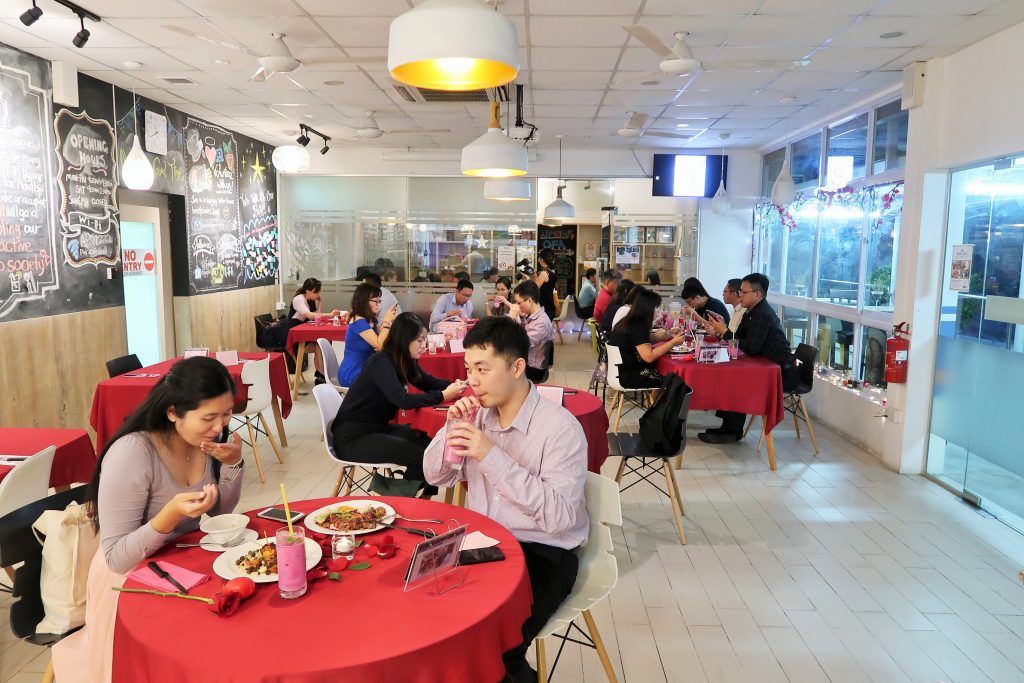 APSN Cafe for All served more than 150 people over Valentine's Day season from 14 to 16 February, consisting of couples, families and friends.
APSN Café for All's 2nd anniversary fell on Valentine's Day 2019, and many customers were first-timers at APSN Café for All who dropped by during its extended hours.
One couple, Mr Victor Chan and Ms Zoe Teo enjoyed the food, ambience and Cupids! Mr Chan said, "With (partners like) ASTONS, APSN has the industry experience. The skillsets you teach them is good, allowing them to join the workforce."
Trainees with mild intellectual disability showcased their culinary skills and flair in food styling, in this one-time only Western-influenced menu concocted for Valentine's Day. Amid committing the new procedures in food preparation to memory, trainees picked up additional skills during the event – for example, servers were taught to observe and give cues to the kitchen in executing the subsequent courses as practiced in restaurants.
Some Café trainees have been undergoing training ever since the Café opened. With their experience, they guided the newer trainees into executing the preparations needed for the three-course meal.
The one-time only, European 3-course menu was inspired by Instructors at APSN Centre for Adults.
A few APSN alumni were also spotted celebrating their years of friendship at APSN Café for All during the occasion! One of them – Aidah, 33 – was visiting APSN Café for All & ASTONS Express for the first time. She loved the yummy food and was very happy to see her old pals.
We thank everyone for joining us on this special and important occasion. The crew had a chance to serve over 150 guests – lovers, friends and family – over the 3-day period. As much as it was a memorable learning experience for our special friends, we can only hope that your night was unforgettable too! 😉
View the press release here.