APSN Chaoyang School Public Talk
The Public Talk caters to parents who wish to know more about APSN CYS. The talk will provide an overview of APSN, APSN's educational pathway, the School's general information, key programmes, educational curriculum, admission criteria and application process.
The upcoming Public Talk schedule is as follows:
26 March 2020 (Thursday), 2pm to 4pm
16 July 2020 (Thursday), 2pm to 4pm
24 September 2020 (Thursday), 2pm to 4pm
To register for this Public Talk, please email Ms Joanna Lim (joanna.lim@apsn.org.sg) with your name, contact number and number of people attending.
For enquiries, please call 6637 9806.
Achievements
APSN Chaoyang School's niche area is in Aesthetics. For Visual Arts, the school has a Talent Development Programme to nurture pupils' budding talent in Chinese and Batik Painting. As for Performing Arts, the school has 2 very successful performance groups: Merry Melodies and Groovies. Merry Melodies, a choir group, and CYS Groovies, a hip-hop dance troupe, get invited regularly to perform at various public events. Places that the groups have performed at include: the Istana, Esplanade and MediaCorp.
Official Opening of the new APSN CYS campus at Ang Mo Kio Street 54 by President Halimah Yacob
APSN CYS athletes clinched 27 medals at the 9th Special Olympics Singapore National Games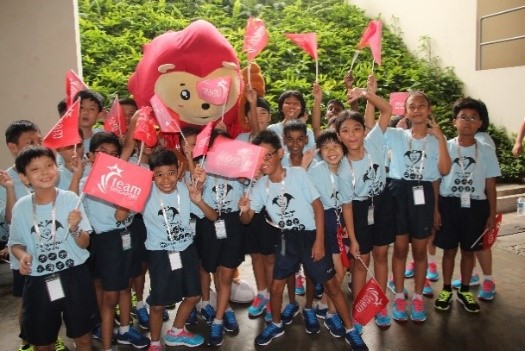 Merry Melodies performed at APSN Gala Dinner 2016
CYS Groovies performed at:
– APSN Gala Dinner 2016
– Purple Parade 2016
CYS Groovies performed at Purple Parade 2015
Merry Melodies performed at:
– APSN Charity Golf 2015
– APSN Gala Dinner 2015
– ASEAN PARA Games
CYS Groovies performed at NTU Joint Dance Concert
Merry Melodies performed at NCSS 'Give-a-Hand' Campaign
CYS Groovies performed at SYF 'Youth Got Talent'
MOE Inaugural Masters Scholarship 2012
– Mr Patrick Aw (overseas)
MOE/NCSS Outstanding Teacher Award (OSTA)
Mr Patrick Aw (2010)
Mrs Anita Suwandi (2008)
Ms Chui Kit May (2008)
MOE/NCSS Innovation Award 2009
Performing Arts Innovation Programme
MOE/NCSS Innovation Award 2008:
I-café Innovation Project
Contact Information
Phone
Fax
Email
Principal
Address
+65 6456 6922
+65 6456 2030
cys@apsn.org.sg
Mrs Angela Lee
10 Ang Mo Kio Street 54
Singapore 569184
Subscribe to our e-newsletter